Yousuf looks to experience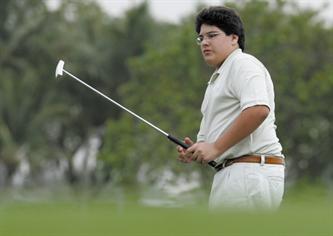 UAE amateur Khalid Yousuf is just one of more than 40 keen golfers in the Emirates who will take to the tees tomorrow in a bid to join the entry list of this month's $2.5 million (Dh9m) Dubai Desert Classic.

Yousuf will lead the "home" challenge and the only Emirati to play off a plus one handicap knows what it takes to compete at the highest level of golf, having featured in last year's Classic on a sponsor's invitation.

"I have done pretty well of late and hope the experience of playing in the Eisenhower Trophy in October will help," said Yousuf, who holds the record for the best performance by an Emirati in an international competition after shooting rounds of 74, 79, 76 and 74 for a 13-over par total of 303 at the World Team Amateur Challenge in Adelaide, Australia.

The 36-hole qualifiers take place tomorrow and Monday at the Emirates Golf Club's Majlis course and each of the 29 professionals and 14 amateurs will have the same goal in sight: to be standing alongside the likes of Ernie Els and Henrik Stenson when the European Tour event gets under way on January 26.

But there can be only two winners – one in each category – and Mohammed Juma Buamaim, vice-chairman and CEO of Golf in Dubai, says he expects a fierce competition.

"The prize on offer is big and, needless to say, the players won't be short on motivation," said Buamaim, who helps promote and organise the Classic, which is celebrating its 20th anniversary this year by inviting all its past champions, including Seve Ballesteros and Tiger Woods.

"I am sure the qualifier will unfold an interesting duel in the sun and will test the abilities of the players to handle the pressure in tight situations. The tournament will be a good learning curve for all players.

"There is always a great atmosphere during the qualifier with the result usually going down to the wire. We are again expecting a close battle for the honours."

Matthew Turner, who won the amateur category last year, and Andrew Whitelaw who secured the professional spot in 2008, will lead the charge amid a plethora of seasoned competitors.
Follow Emirates 24|7 on Google News.