Zim here against all odds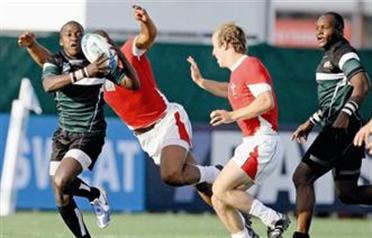 Liam Middleton, the Zimbabwe rugby sevens coach, embodies the commitment of his players when talking of the hardships that faced the African team enroute to this weekend's Rugby World Cup Sevens.

With the country in the grips of an economic crisis and a debilitating outbreak of cholera, the Zimbabwean sevens side were a success story before they even set foot on the turf for their first match against Wales yesterday.

"We've overcome a lot of obstacles to get here," explained Middleton before his side's 31-5 defeat to the Welsh. "For Zimbabwe to be here is pretty amazing. We've qualified when we haven't done in the past, but it's at a time when things are very difficult back home. Just us being here makes it a momentous occasion for our country."

With Zimbabwe experiencing a horrendous end to 2008, the team were forced to hold their training camp outside Harare, the troubled capital. Training for three hours in the baking February heat required a substantial amount of water, something that became increasingly difficult to provide in recent months.

Moving away from Harare gave the team a welcome respite.

"We had all our food provided and had a great training facility," confirms Middleton. "We really could've been any team, anywhere in the world and it was just great to experience that.

"We're all affected by the economic situation in the country, but as a coach I just tried put a bit of a bubble around our guys so they weren't distracted by outside influences. We tend to be very resourceful people, but that's all behind us now. Once you get here you're on a level playing field."

Zimbabwe have to negotiate a difficult Pool F that includes Argentina, who won in the IRB Sevens leg in San Diego, the same Welsh side that triumphed against New Zealand in Wellington and an emerging Uruguay team.

Middleton believes his determined charges can make an impact at the tournament despite the considerable calibre of opponents, and feels success here would be a fitting thank you to those that have helped the unsettled nation compete in Dubai.

"We've set our own goals pretty high and haven't really considered what the other sides are doing," he said. "The guys are hugely honoured to represent their country and, with all the well wishers and supporters we've had, just want to perform the best they can on the field and show our appreciation that way."
Follow Emirates 24|7 on Google News.