Australian Open 2013 Final 'live' score: Djokovic beats Murray to win Australian Open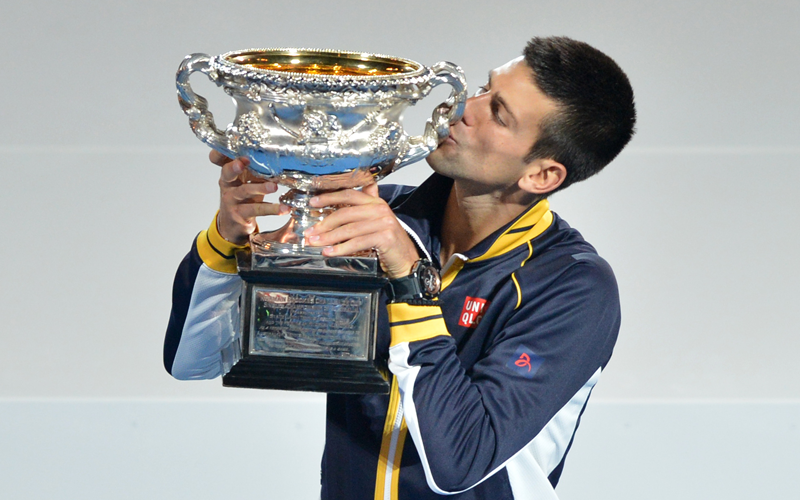 After a scary stutter - missing an easy overhead - Novak Djokovic serves out the match to leave Andy Murray blistered, bruised and a runner-up.
Novak took the fourth set 6-2. This is his 6th Grand Slam win.
Novak seems to want to finish it in a hurry, here and now on Andy's serve. But Andy holds. Novak to serve for title.
Since end of second set winners count 17-6 to Novak. Novak up 5-1. One game from championship
Murray double faults to give Novak a 4-1 lead in the fourth set. Again Murray stops mid-serve and looks into the crowd. A loss of focus of ever there was.
Novak suddenly looks as fresh as the first set. He is about to make history - 3 Australian Opens on the trot beckon.
Novak drop shot again. Murray fails to make the return. Deuce.
This could be the game that decides the match: Deuce on Murray's serve.
Murray sends a shot into the net at 30-30 on Novak's serve. Novak holds. And then takes the first point off Murray's serve. 30-30 for Murray now.
Novak drops another ball for Murray to chase making the Scot run some more... and out of the game. Murray gets there, but sends the return wide.
Murray is fading fast and Novak can smell blood and ups his game. Had three break points, Murray saved one with a huge serve, but Novak pounced keeping the ball in play for far longer than Murray can handle.
This fourth set is quite clearly going to be about Andy Murray and his ability to fight his blisters on his foot, hecklers in the crowd and Novak Djokovic in a higher gear. He does it in the first game to hold serve and is now 30-30 on Novak's serve.
Third Set, Novak Djokovic 6-3, leads 2 sets to 1
Novak Djokovic of Serbia hits a return to Andy Murray of Britain during their men's singles final match at the Australian Open tennis tournament in Melbourne.(REUTERS)
Novak closes it out in a flash. Murray arguing with the referee now about the hecklers from the crowd. Not enough winners for Murray in 3rd set. Like in the first set he needs to go for the winners.
Is this it, then? Novak goes up 40-0 on Murray's serve. Then with two unforced errors allows Murray to pull back to 30-40. Just as Murray is about to serve a heckler from the crowd distracts him. He pulls out of the serve. Misses his first serve. Novak breaks. For the first time in the match a serve is broken.
36-shot rally, which Novak wins. Murray serve under pressure now. 0-30.
Novak holds off a point Murray controlled with a great lob to stay in the point. Both players holding serve easily now. Third set tie-break?
Novak has won 86% of net points so far. He holds and nobody seems to be able to find that little bit extra to break the other's serve. Their styles of play are very similar, making for a cancelling out scenario - unlike Federer, Nadal.
Novak needs to ensure he does not let Murray any easy service games. He tries a cheeky drop shot that does not come off. Not a classic final in terms of match play by any stretch, however, a monster in terms of physical prowess.
Match time two-and-a-half hours, and no breaks of serve.
And Novak holds. And easily. Murray needs to impose himself on the match again.
Murray holds. But stats show that in head to heads, when Murray and Novak have been a set a piece, Novak as won every time.
Like Novak in the first set with 5 break-points not converted, Murray had 3 in the second, not converted. Both players 7 aces so far.
And Novak wins the first game of the third set. Looks pumped up now.
Stats show that Murray is best to win when he wins first set. And Novak has best record on comebacks after losing first set. So...
Andy Murray gets treatment for blisters, back on for third set.
Trainer on court.
Second Set, Novak Djokovic 7-6 (6-2); One set each
Serbia's Novak Djokovic reacts after a point against Britain's Andy Murray during the men's singles final on day 14 of the Australian Open tennis tournament in Melbourne. (AFP)
Andy Murray of Great Britain reacts to a point in his men's final match against Novak Djokovic of Serbia during day fourteen of the 2013 Australian Open at Melbourne Park in Melbourne, Australia. (Getty Images)
Ice cool. Super strength. Clinical finishing. Novak wins second set tie-break.
Novak holds and wins first tie-break point.
Novak double faults. 30-30.
Murray makes a rare trip to the net, only 9th time so far, and wins a point. Then stays on the baseline and loses one.
Novak has to do it the toughest way possible now. Has to hold. Has to win the second set tie-break.
Novak finds some wicked depth with his ground strokes. Murray finds an ace to stave him off.
Murray yet to lose a point on first serve in second set.
Novak digging deep. Crunching double-handed backhand. Then a scream. And he holds.
Brilliant cross court forehand from Murray. Novak serve again under pressure.
Murray coasts again. Novak needs to find another gear quick. Commentators increasingly talking about Novak's chances from two sets down.
Double faults, 2 a piece.
Novak holds.
Novak surely does not want this to go to a tie-break. All for him to do. Murray sitting pretty comfy.
Novak holds. Much better from defending champion.
And Murray holds... again like the start of the first set, rather easily.
Murray wins another long rally and Novak kicks out at the ball... makes better contact with his foot than he was with his racquet.
Novak please note: Nobody has come 2 sets down in the Open era to win at Melbourne.
And Novak holds.
Only to waste them with some unforced errors. Deuce, Novak's serve.
Novak throws down back to back aces.
And that is why Novak is World No 1. Staring down the barrell at 0-40, fights back to win first game of set No 2 with some stunning play; killer down the line and classy drop shot.
Novak fights back to duece.
Three break points for Murray.
Murray opens set number 2 with a service game to love helped by more unforced errors from Novak, who is getting irritated with himself.
At this point in the match, Murray had won 13 of the last 15 points.
First set, Andy Murray 7-6 (6-2).
Novak Djokovic hits a return against Britain's Andy Murray during the men's singles final on day 14 of the Australian Open tennis tournament in Melbourne. (AFP)
Andy Murray makes a forehand return to Serbia's Novak Djokovic during the men's final at the Australian Open tennis championship in Melbourne, Australia. (AP)
We predicted that Murray would have the advantage in a tie-break and he did. In fact he crushed Novak, who did not help himself by starting the breaker with a double fault.
Novak had five break points in that set. Against Andy in this form, you have to convert.
Andy Murray looks in the mood. And now has the game as well.
Novak stays alive, wins longest rally of the match so far.
4-1, Murray.
Andy holds. Tie-break here we go.
Novak gifts Andy another long rally with an unforced error.
First serve points won so far, Murray: 80, Novak: 68
Novak coasts to hold again. Murray needs to hold to take first set to a tie-break. Murray might actually hold the edge in a tie-break, so Novak wants this here and now.
Second serve points won so far, Novak: 88, Murray: 69.
5-5, on serve.
Murray holds serve by finally winning one of the long exchanges. Showing great court coverage is Andy.
Almost every rally more than 8 strokes Novak has won. Murray needs to keep them shorter. Needs to go for the winner faster.
Novak serves out to go 5-4 up with an ace. Key game coming up... to state the obvious. Murray under the gun.
Murray survives another tough service game that went to duece.
Unforced errors creeping into Murray's game. The two toughest points have been won by Novak, so mentally he may have the edge.
4-3, Novak.
Novak powers to an easier service game. Keeps looking at his ankle.
Incredible point again. Novak slips, recovers, dives, sends Murray chasing. Murray, amazingly gets the ball only for Novak to fake him and drop to win.
3-3, on serve. Early trouble with Novak's ankle as well.
Murray survives 3 deuces and a break point.
And Novak fights to break to take control of first set.
Murray serve under pressure for first time. 15-40.
3-2 Novak on serve, but Murray making him sweat to hold.
Novak holds with the first great point of the game. Multi-shot rally ended with great drop shot from Murray which Novak, in true Novak style, reaches and then hits a down the line winner.
Novak stretched to duece.
Novak being made to work on serve again.
2-2, Murray coasts to another easy service game.
Murray mixing it up early. Baseline and net play both being used.
2-1 Djokovic first set, on serve
Djokovic made to fight for his serve. Murray's powerhouse strokes causing early trouble.
1-1, first set.
Murray in sizzling form. Takes off from where he left off against Federer. Wins service game to love.
Murray sets up first service game. Real gladiatorial feel to the match with both in black.
Novak leads 1-0, first set,
Novak first at the net. 40-15, Novak.
Novak to serve, Murray wins first point.
Minutes to go before the battle between world number one Novak Djokovic and world number 3 Andy Murray in the Australian Open begins.
Djokovic, the 2011 and 2012 champion, is bidding for the event's first hat-trick of the professional era, while US Open winner Murray can become the only player to open his Grand Slam account with back-to-back major titles.
However, an increasingly athletic Murray outlasted Djokovic in five sets in the US Open decider in December, when he finally landed a Grand Slam title after being runner-up four times.
Murray confirmed his new stature with a five-set defeat of Federer in the Melbourne semi-finals, his first ever Grand Slam win against the Swiss, and goes into Sunday's title match with his confidence high.
Murray is into his third straight Grand Slam final but he is rated by many observers as second-favourite to Djokovic, who has again shown his amazing resilience and played tennis of the highest order in Melbourne.
Follow Emirates 24|7 on Google News.