Eyes on the goal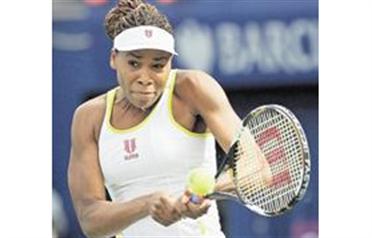 Russian starlet Elena Vesnina says this week's win over Svetlana Kuznetsova will give her the boost she needs to push on and climb the world rankings.

The 22-year-old defeated world No7 Kuznetsova in the second round of this week's Dubai Tennis Championships before eventually falling in the quarter-finals to Estonian Kaia Kanepi on Thursday.

But the world No75 says she will take tremendous encouragement from the victory over her compatriot – her maiden win against a top-10 ranked player.

"For me it was a great win," said Vesnina. "I had been waiting for so long to beat a top 10 player – I have three victories against No11, but never against a top 10.

"Svetlana reached the final last year and always plays well here, but I beat her – and she never loses to players with lower rankings.

"She is always in the final or semi-final and she is a Grand Slam champion, so for me it was exciting.

"By the end of this season I would like to be in the top 20 and when I play like I did on Tuesday I know I am capable of that."

Vesnina has already represented Russia in the Fed Cup, where in 2007, with doubles partner Nadia Petrova, she helped defeat America on US soil by beating Lisa Raymond and Venus Williams in Vermont.

Venus faced sister Serena last night in Dubai for a place in this year's final and, despite the older sister sending Vesnina's friend, compatriot and reigning champion Elena Dementieva crashing out in the quarters, the Sochi-based player has nothing but praise for the two Grand Slam winners.

"I played against Serena at the US Open last year and met Venus at the Fed Cup," said the world No16 in doubles. "It is tough to play against them because they have such good serves, especially Venus. "When she serves 215kph to your body you can get quite scared actually – you just hope you survive after the serve.

"But I think Serena is a real No1 in the world right now, because she is a great champion and has such massive experience. Both have been on the Tour for many years and they are still the best."
Follow Emirates 24|7 on Google News.