Fed looks to future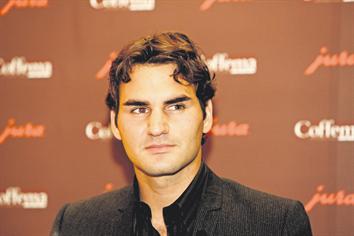 Roger Federer's absence from the Dubai Tennis Championships will have a few tennis stars breathing a sigh of relief, but the former world No1 issued an ominous statement of intent in the emirate on Thursday.

The four-time Dubai champion pulled out of the tournament last week because of a back injury first sustained towards the close of last season and has indicated he will need at least a month to recuperate.

Yet he fired a warning to those who think the titanic tennis talent is on the wane.

"I'm still fairly young in tennis terms and I've still got many years ahead of me," said the 27-year-old. "The most important thing is to stay healthy so I can chase my dreams. I'm so disappointed I'm not playing in Dubai, but I'm very confident and positive about this year.

"Despite the injury, I feel a lot better this year to what I did last year. I'm only going to play again when I'm 100 per cent fit, whereas last year I played many matches when I wasn't feeling great. That's going to make a big difference for me, both now and also for the following years."

That Federer is thinking long-term will strike a chord with the rest of the men's game – he is chasing down Pete Sampras' record 14 Grand Slams and was disappointed to not equal the milestone in his last match.

He contested an epic five-set showdown against Rafael Nadal at the Australian Open final in Melbourne last month, only to go down 7-5, 3-6, 7-6, 3-6, 6-2 to his Spanish rival.

Roland Garros in May provides Federer's next chance to secure his 14th Grand Slam title, the only major the world No2 has failed to win since joining the professional circuit in 1998. The French Open has proven particularly elusive since Nadal's rise to prominence, as the Mallorcan matador conquered Federer in the past three Paris finals.

If Federer were to add the missing link, he would surely be considered the greatest tennis player of all time. The tag does not sit well with him, however.

"We don't know the greatest of all time," he said.

"But I think that's the beauty of tennis. Who even knows how many matches I'm going to win, or if I'll win the French Open? It would definitely enhance my career and make it even more incredible for me than it already is. It would make it more special to be the greatest of all time, yet I'm not really sure what that would take. I'm very proud to already be up there and have a lot more time left to achieve even more. That's why I'm excited about the future.

"I want to play as long as I can and that's where I draw inspiration from Andre Agassi who played through many generations. I've already played against Sampras and Agassi, then [Andy] Roddick, [Leyton] Hewitt and [Marat] Safin in my generation and now I'm playing Nadal, [Novak] Djokovic and [Andy] Murray.

"And we've already got a new generation coming through, and after that maybe there'll be another one. Every five years you have a new generation, which is interesting for tennis and I'd like to stay around for a while yet.

"We've got the Olympics in 2012 and getting the singles gold in London – which will be held on the grass at Wimbledon – would be a proud moment for me.

"So I'll hopefully play until I'm 35, which is seven or eight years from now," added Federer, who took gold for Switzerland in the doubles at the Beijing Olympics last August. "I'm setting my goals long-term."
Follow Emirates 24|7 on Google News.