Murray hunts for Slam glory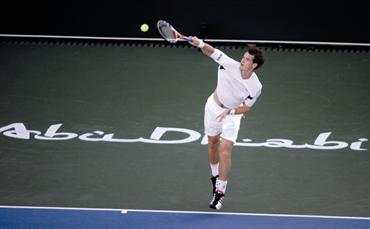 Andy Murray, fresh from his semi-final victory over world No2 Roger Federer at the World Tennis Championships in Abu Dhabi, said he hopes to re-enact his triumph on the big stage and finally win the Grand Slam he has been dreaming of for the past eight years.

Murray dispatched his Swiss opponent 4-6, 6-2, 7-6 (8-6) at the International Tennis Stadium in the capital yesterday.

The Scot has lost only once to Federer in four years, but it is a defeat that still hurts: At the final of the US Open, Federer won in straight sets, prolonging Murray's wait for a major win. Now the 21-year-old says he wants the chance to avenge the defeat.

"Every time I play Roger it's a great challenge," said world No4. "We've had some very close matches in the past, and I've sometimes had the better of him. But he beat me badly in the US Open last year so maybe soon I'll meet him in a Grand Slam again."

Murray knows it will be no easy task to become the first Briton to win a Major since Fred Perry – ironically Murray's clothing sponsor – but says he has been preparing for the opportunity for almost the past decade. And he refuses to accept an increase in media hype and the British public's great expectations as a reason for him to fail.

"There have been better players than me that have never won a Grand Slam, so I know how hard it is and I know I will need to work hard to do that," he said. "But the only thing I have wanted to do in the past seven or eight years is to win a Grand Slam. Whether people are expecting me to do it or not, it's the one thing I've always wanted to do so there has always been pressure on me to do that because I put it on myself."

Murray will face world No1 Rafael Nadal in today's final and says the opportunity to test himself against the world's two best players in the space of two days can only be beneficial in his quest for glory.

"I had some good matches against him last year so to play against the world's top player would be a good way to start the New Year," he added.

Meanwhile, Nadal was pleased with his start to the year. It was the Spaniards first match in 2009 after being given a bye into yesterday's semi-finals.

"I have been working hard on my game lately even though I haven't been playing competitive tennis for the past two months or so. I was delighted with the way I played yesterday and am looking forward to the rest of the season.

"The aim really is to be a better player than I was last year and to keep improving. Obviously, I like the position I am in right now and would like to keep it this way as long as possible."
Follow Emirates 24|7 on Google News.