Nadal to miss Dubai Tennis Championship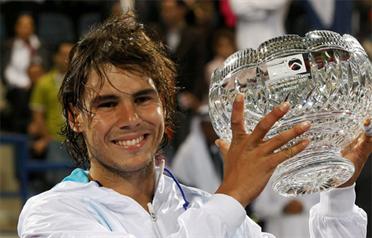 Rafael Nadal tonight announced that he does not plan to participate in next month's Dubai Tennis Championships as the world No2 looks to negotiate a busy 2010 schedule.
Nadal, fresh from winning the Capitala World Tennis Championship in Abu Dhabi courtesy of a straight sets-victory against Robin Soderling, said he will look to use the break to rest ahead of a gruelling summer programme, especially after he missed six weeks of last season because of tendinitis in both knees – an injury that prevented him defending his Wimbledon title in July.
"I don't think [I'll play in Dubai]," said Nadal after defeating Soderling 7-6, (7-3), 7-5 at Zayed Sports City International Tennis Complex. "It depends if I have very bad results in Doha, Australia and Rotterdam [in the coming month], then maybe, but it's not on my calendar.
"I didn't stop at the end of last season. I practised for two-and-a-half weeks and I hope to have good tournaments [before Dubai] and then have three weeks off later. I have to rest a little bit and prepare for playing the American season and clay season because after that there is no chance to stop."
Nadal's omission from the Dubai tournament is a blow for the emirate's tennis fans, especially after the 23-year-old took the advice of his medical staff to miss last year's competition, which featured only Novak Djokovic and Andy Murray from the world's top five players.
Although reigning world No1 Roger Federer earlier confirmed his attendance at the 17-year-old event, Nadal is convinced he is making the right decision to prolong an important year in which the Spaniard aims to add to his haul of six Grand Slam titles.
"I don't have a lot of chances to play less if I want to be at the top," he said. "I don't decide the calendar, it's the ATP. I don't have a lot of chances to choose where I'm going to play and what I'm going to play.
"This is my eighth year on tour and for the past five years I was one of the players who played the most matches – I didn't have a lot of [injury] problems. Last year I had a few, but that's normal if you consistently play at 100 per cent: the body sometimes says 'stop'.
"I hope to continue playing at this level," added Nadal in reference to tonight's win in the UAE capital. "If I do I'll have chances to do good things this year and that's my goal. I've practised well. It's my best level on court since Roland Garros [the French Open] last year so that's very good news for me."
Nadal will need to be at the top of his game if he is to regain his world No1 ranking, French Open and Wimbledon crowns from Federer, particularly as the men's game seems to be more competitive than ever with Djokovic, Murray and Juan Martin del Potro all excelling in major tournaments in 2009.
However, Nadal, a professional since 2001, remains non-committal when comparing the current era of men's tennis to when he first arrived on the Tour.
"There are new young players now, but when I started there was [Jim] Courier playing unbelievably, [Andre] Agassi playing unbelievably, Leyton [Hewitt], Federer and [Andy] Roddick," said the Majorca-born baseliner. "Imagine when I started in my first Masters, there was [Marat] Safin, Agassi, Hewitt, Roddick and Federer.
"So when another generation comes it always seems like that's the best. It's difficult to say right now. We will see in a few years."
Follow Emirates 24|7 on Google News.