Also showing in the cinema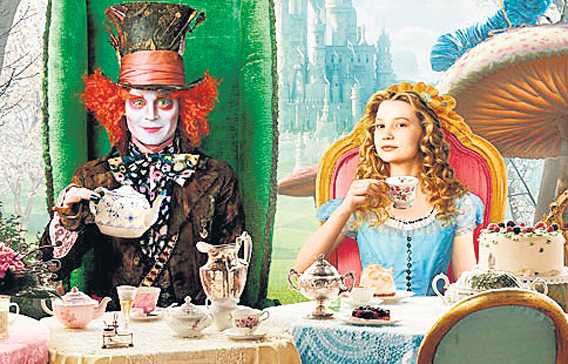 Alice In Wonderland
From visionary director Tim Burton comes an epic 3D fantasy adventure, based on the beloved story book.
Mia Wasikowska stars as 19-year-old Alice, who returns to the whimsical world she first encountered as a young girl, reuniting with her childhood friends: the White Rabbit, Tweedledee and Tweedledum, the Dormouse, the Caterpillar, the Cheshire Cat, and of course, the Mad Hatter.
Also stars Johnny Depp, Helena Bonham Carter and Anne Hathaway.
Whip It
In the directorial debut of Drew Barrymore, Whip It stars Ellen Page as Bliss, a rebellious Texas teen who throws in her small town beauty pageant crown for the rowdy world of roller derby… all under the disapproving eye of her controlling mother.
Atithi Tum Kab Jaoge
In this Bollywood comedy, Puneet (Ajay Devgan) and Munmun (Konkona Sen Sharma), are a happily married couple living in Mumbai.
Their lives take an interesting turn when a distant relative, Chachaji (Paresh Rawal) turns up unannounced at their doorstep from a far-off village. The guest overstays his welcome so much so that the exasperated couple come up with various ploys to hasten his departure to hilarious results.
Edge Of Darkness
Thomas Craven (Mel Gibson) is a homicide detective for the Boston Police Department and a single father. When his only child, 24-year-old Emma, is murdered on the steps of his home, Craven's solitary search for answers transforms into an odyssey of emotional discovery and redemption.
Seed
Max Seed, a man responsible for the death of 666 people over the past six years, is on the loose.
With Detective Matt Bishop on the case, Seed is soon captured and sentenced to death by electric chair. But madmen die hard – or not at all – as Seed proves to his jailors. Buried alive, Seed returns from the grave, very much alive, and very much bent on vengeance.
Precious: Based on the Novel 'Push' by Sapphire
The American drama by Lee Daniels has arrived in the UAE. Precious is an adaptation of the 1996 novel Push by Sapphire, starring Gabourey Sidibe as the title character, alongside Mo'Nique, Paula Patton, Mariah Carey and Lenny Kravitz.
Keep up with the latest business news from the region with the Emirates Business 24|7 daily newsletter. To subscribe to the newsletter, please click here.
Follow Emirates 24|7 on Google News.