Car-free Masdar City will run on green PRTs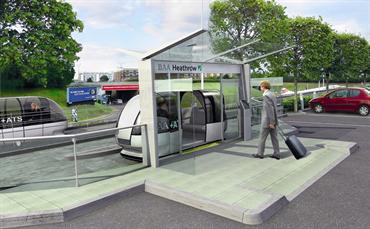 Personal Rapid Transit automotives will be the only means of transport in the planned zero-carbon and zero-waste city taking shape just outside Abu Dhabi as one of cleanest and most environment-friendly habitats in the world.
Inhabitants and visitors need not worry about taxi shortages in town. Nearly 2,000 PRTs will serve Masdar's 50,000 citizens inside the city, which is designed to be free of cars and any other polluting machines.
The computerised, battery powered pods just need to be told where to go and they just head straight to the required destinations.
The vehicles can travel at around 40kph through a maze of roads inside Masdar and can carry four adults and two children.
Passengers will not have to waste time telling the driver where they are heading as the pod has no driver. They just press a tiny button on the computerised screen inside the small vehicle to tell the machine about their destination.
Producers of the light-weight vehicle have also thought about the possibility of pedestrians stumbling across a PRT as they cross the road. "The vehicle is equipped with a sensor that detects people in their way. If there is a person crossing the road, the vehicle will slow down automatically," said Ziad Al Askari, Business Development Manager at the United Technical Services (ITS), a UAE company that will oversee the supply of PRTs to Masdar City.
"If the pedestrian stops in the middle of the road, the vehicle will stop completely… it is a very advanced automotive designed for a clean environment such as Masdar City, which will get nearly 2,000 of these vehicles."
Speaking to Emirates Business at the Future Energy Summit, Askari said 10 prototype PRTs have already been manufactured in the Netherlands for Masdar City and the rest would be produced by a joint venture in the UAE.
One of those prototypes was at display at the Future Energy exhibition, where it appeared to have stolen light from almost all other products.
Curious visitors getting into the PRT to gaze at its interiors and a large computerised screen in the middle of the vehicle were told the automotive is run by a computer that transmits a passenger's orders for the machine.
"What you need to do is just to get into the vehicle, type the station where you would like to go, press the button and have a seat… the vehicle will then take you where you want," said Carel van Helsdingen of the Dutch Advanced Transport Operation Services (ATOS), which produced the PRTs.
"Ten of these vehicles have already been manufactured for Masdar and the rest would be produced here in the UAE by a joint venture between our company and UTS… an average 150 automotives can be made every year and they will be delivered and put in service in Masdar City gradually."
Helsdingen said PRTs would be the only transport system in Masdar City, adding that 2,000 vehicles would be enough to serve a population of 50,000.
"Should you want to leave Masdar City, the vehicle will take you to the nearest station where you parked your car in the parking adjoining the city," he said.
"The PRT system in Masdar City will operate throughout the city… it will be linked to assigned stations, which will all be stored in the automotive's computer. It is a very environment-friendly and quiet vehicle and can also take personal cargo… passengers should not worry about any fuel shortage as it is powered by a rechargeable battery, which can be charged at assigned stations inside the city… as for transport fares, well, that is up to Masdar authorities."
The Abu Dhabi Government is pumping in excess of $20 billion (Dh73bn) to build Masdar City near Abu Dhabi International Airport as part of its Masdar Initiative, a long term strategic commitment by the government to accelerate the development and deployment of future energy solutions.
According to Masdar, the City will take sustainable development and living to a new level and will lead the world in understanding how all future cities should be built.
The City is a cleantech cluster that is already attracting the world's best in all areas of sustainability from renewable energy to biomass.
Masdar pointed out the city would be totally carbon and waste-free place as all trash would be dumped in a compost pile and get decomposed.
How does a community of 50,000 people produce no waste?
Masdar said: "The answer lies in composting and recycling materials. To keep trash from ending up in a landfill, much of the waste will end up in a compost pile, where bacteria will decompose the material. Otherwise, recycling will be a high priority for the city. There will be no cars in Masdar City to contribute to the release of carbon dioxide. Supposedly, people living and working in Masdar City will never be farther than 200 metres from transportation."
Masdar City will be built over seven years and its master plan design meshes the century old learnings of traditional Arabic urban planning and architecture with leading-edge technologies to create a sustainable, high-quality living environment for all residents.
The City will be built in seven designed phases, incorporating the latest technological advances generated in its clean-tech cluster and globally.
The first buildings under construction already demonstrate Masdar's innovation appetite: Masdar headquarters building will receive its power required for construction from a vast PV array on its roof built ahead of the remaining structure – a world first.
Strategically located at the heart of Abu Dhabi's transport infrastructure, Masdar City will be linked to surrounding communities, as well as the centre of Abu Dhabi and the international airport, by a network of existing roads, and new rail and public transport routes. The City will be pedestrian friendly. With a maximum distance of 200 metres to public transport and amenities, and complemented by an innovative personal rapid transport system, the compact network of streets will encourage pedestrians and community social life.
Getting into the displayed PRT, Chairman of the Abu Dhabi Chamber of Commerce and Industry Salah Al Shamsi looked excited as he bent his head before taking a seat inside the cozy machine.
"It is exciting and comfortable but I think the roof is a bit low as passengers have to bend their head," he remarked to the Masdar delegate.
"Well this is not a flaw… this car is designed to take only four adults and two children, who all should sit… no one will be standing," the delegate said.
PRT features

 - Environmentally friendly, clean and less noisy
 - Provide a level of service that is superior to that available from conventional public transport
 - Would be well received by the public, both public transport and car users
 - Vehicles are small – typically two to six passengers
 - Vehicles travel along a network of guide ways, much like a network of streets
 - Travel is point-to-point, with no intermediate stops or transfers
- Potential for on-demand, around-the-clock availability
 - Stops are designed to be off the main guide way
Follow Emirates 24|7 on Google News.
Visitors to the future Masdar City will have no choice but to do what the Masdarans do – leave their cars outside the city and use PRT.