Home is where the heart is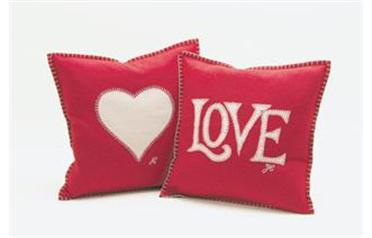 True romantics will argue that Valentine's Day, while fun, is not the most romantic day of the year.

They believe the real 'aaah' moments are the spontaneous ones that make you realise you're truly with your soulmate. It's usually when the person you love has done something touching, quirky, sweet or funny, rather than handing over a predictable bunch of flowers and a soppy card.

That said, there's surely nothing wrong with making your home a place where love – if it comes knocking – is welcomed by indulging in some heart-warming touches. You could add a heart-shaped cushion here or there, some pretty china decorated with pink hearts, or perhaps an attention grabbing LOVE wall print to send out the message loud and clear. Who knows, it might even encourage those adorable spur-of-the moment romantic gestures – from compliments through to declarations of affection or undying love.

Even if you're not celebrating, some romantically inclined home goodies will help to turn your rooms into the cosy, lift-your-spirits sanctuaries that they should be.

The best Valentine's gifts are thoughtful, original and lasting. And, if you fancy breaking the budget, grand gestures are always welcome.

If you're stuck, we've got some clever ideas to have you, and others, swooning over your house.

Fun and Flirty

If you're just taking your first steps into a relationship, be careful to use a light touch with those romantic home gestures – a room dripping with hearts could be too heavy at this stage.

Drop tiny hints about your feelings by popping a cushion emblazoned with the word LOVE on your sofa. Next's square red one with white letters is Dh60 (04 340 3898) while designer Jan Constantine spreads the love with red hand-embroidered cushions. Perfect for adding a cosy, sentimental touch to a bedroom or living room. Love and Heart cushions, Dh316 each, by Jan Constantine. www.janconstantine.com

Romantic Gestures

When planning a dinner for two, set out a few sweet treats on a heart-shaped hammered silver dish, Dh170 from Debenhams, (04 340 7575) or in a heart-shaped basket Dh19 from The One (04 345 6687). If your loved one is really not getting the message, British designer Emma Bridgewater has come to the rescue with a pink and white Heart Teapot and matching cups and saucers. Available from Harvest Home, Jumeirah, (04 3420225).

Don't forget to turn the lights down low and woo by candlelight. The One has a selection of pretty tea-light holders, which start at around Dh29each.

Make a Statement

Want to shout about your feelings for someone special? Deliver an impassioned message with a stylish, satin-finish print. Bold white text against a red background makes a quirky statement. Love Candy print, 41cm x 61cm, Dh241, Bodie & Fou. www.bodieandfou.com  

You could spell out your feelings by arranging gorgeous gold ceramic LOVE letters on a mantelpiece, or if you're confident love is here to stay, display a red LOVE wall sticker, both from Next.

Pretty heart-shaped features are perfect for a feminine bedroom. Choose a luxurious 100 per cent silk quilt handmade by a small, family-run business in Hanoi. Ideal for beds or sofas, it's reversible – ballerina pink on one side, sumptuous oyster on the other. Silk quilted throw, Dh428, from Biome Lifestyle. www.biomelifestyle.com  

Head Over Heels

If you're totally head over heels about him or her, or are simply in love with romance, you'll find it hard to resist fabulous pieces that celebrate seduction.

Set pulses racing – even if it does dent your bank balance – with a show-stopping piece of furniture by Dubai-based designer Noel Duigan, Dh3,800 available from Harvey Nichols (04 409 8888). Or opt for the sweeping curves and oval back of a bespoke print chair featuring a pair of lips and the word "Kiss". Dh1,603 Digetex. www.digetex.com

An elegant loveseat, left, upholstered in a scarlet fabric, is just big enough for two. With a serpentine seat and a curved back, it's a romantic setting for a declaration of love. Ava loveseat, Dh11,655, by Nina Campbell. www.ninacampbell.com

Get up close and immortalise your lips on a kiss portrait. Simply use a lipstick and a canvas to get the desired effect and send to Riot Art in the Meadows (04 422 4166) to get it framed.
Follow Emirates 24|7 on Google News.