Is jewellery losing its shine?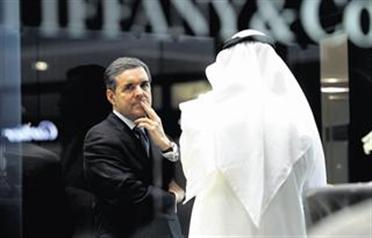 The financial crisis may have taken the shine off the luxury jewellery industry but insiders say they are eager to shrug off the unease, consolidate their positions and move closer to customers.

Demand for gold in the UAE, meanwhile, has dropped by less than 14 per cent – though other markets have seen greater falls.

American fine jewellery retailer and manufacturer Tiffany & Co, which this week opened its seventh UAE store at The Dubai Mall, recently revealed that trade fell sharply during the crucial November-December holiday period. Worldwide sales declined by 21 per cent to $687.4 million (Dh2.5bn) compared with $867.3m in the same period in 2007.

And global market research firm Euromonitor International, in a report published last month called How Luxury is Vulnerable to a Cold Climate, said the outlook for the luxury market was mixed. "The complexity of the market means that overall sales figures can mask a mix of trading up and trading down," it said.

"It is likely that the mid-market will be hardest hit. The moderately wealthy will defer spending more than they need to and saving may return to fashion in the West. While the super-rich may cut back on their spending, they are likely to remain a key audience for luxury marketers."

The report said the UAE's tourism industry may have been hit but the impact was expected to be limited thanks to a continuing stream of visitors from Russia, India and Southeast Asia.

"Building continues and the economy is set for growth," it added. "The population of the UAE is amongst the most affluent in the world, with almost 40 per cent having disposable incomes in excess of $75,000 (Dh275,475) per annum. The overall incomes and spending patterns make it an attractive market for luxury goods."

Karim Merchant, CEO and Managing Director of Pure Gold Jewellers, which operates a number of retail outlets in the UAE, said: "In times of abundance many forget the essence of their businesses. It's time organisations thought about filling the gaps, increasing productivity and looking at new strategies."

Rihen Mehta, Executive Director of diamond supplier and jewellery manufacturer Rosy Blue, said companies were working harder than ever to find new ways to boost sales.

"Everyone wants to get closer to the customer now, to offer him discounts, to offer him more choices," he said. "In the next few months it will become crucial to understand what really kicks the consumer."

Tiffany, which last year increased the number of its outlets to 206 from 185 in 2007, is one of the companies seeking to reiterate its dedication to customers. The drop in sales was felt most in the US stores and to a lesser degree in the Asia-Pacific region and Europe.

Yet, despite the gloom, President James E Quinn is confident the brand's "enduring value" will outlast the worst economic climes.

"In our more than 170-year history we have gone through very difficult times and flourished," he said. "Our customers might not shop as often as they did but they will stay with us for a lifetime."

And the new 3,700 sq ft flagship store is an indication of the company's faith in the emirate. "Because Dubai is such an international crossroad it is a really global market for us. And because our business here has grown so much, it is a chance for us to present a much more diverse collection."

Earlier this month, a few weeks after international fashion house Chanel announced it was cutting jobs in France because of the growing pressure on the flagging luxury market, its flamboyant designer Karl Lagerfeld famously remarked: "Bling is over."

Lagerfeld, who is also designing luxury homes for The World development in Dubai, compared the global financial crisis to "a big spring cleaning" and referred to more subdued trends as 'the new modesty'.

But others in the luxury jewellery industry disagree. "Bling can never be over," said Mehta. "People might not want to spend on it for now. But when they get their money back or when they've saved enough they are all going to buy it. And that is not going to change easily."

Mehta's company, with a $2 billion (Dh7.34bn) turnover, has seen a dramatic drop in business since December 2008. But he said it was still not all gloom and doom and the industry was in danger of losing out a lot more to widespread commercial fears that could provoke hasty reactions.

Merchant agreed, saying: "The fundamentals are not as wrong as is being portrayed and I wish people talked about it responsibly."

Harry Winston, another well-known American jeweller and timepiece manufacturer, announced the soft opening of its exclusive watch boutique at Atlantis: The Palm last November.

"The brand has been relatively healthy considering the luxury sector has had its fair share of the slowdown," a spokesman told Emirates Business. "And unlike many others, we are more positive about what is yet to come."

Yogaani Bhatia, Jewellery Marketing Manager for the World Gold Council, an international body formed to promote demand for the precious metal, said the feedback from retailers across the UAE remained positive.

"We do not expect an immediate or drastic downturn," she added. "Gold is seen as a strong hedge against inflation and investors believe in it strongly. In the UAE, there's been a drop of less than 14 per cent in the demand for gold and that is positive compared to other markets."

Enticing customers, it seems, is a good way to go. The World Gold Council is linking up with retailer Damas to give away 20kg of gold in a retail promotion during the Dubai Shopping Festival, which ends on February 15. Pure Gold Jewellers, meanwhile, is offering discounts of up to 50 per cent on its diamond collection.

Another way, according to Merchant, is to cultivate forbearance. "We all have to just wait it out and be patient, wise and firm," he said.
Follow Emirates 24|7 on Google News.