'It's the moment for niche brands'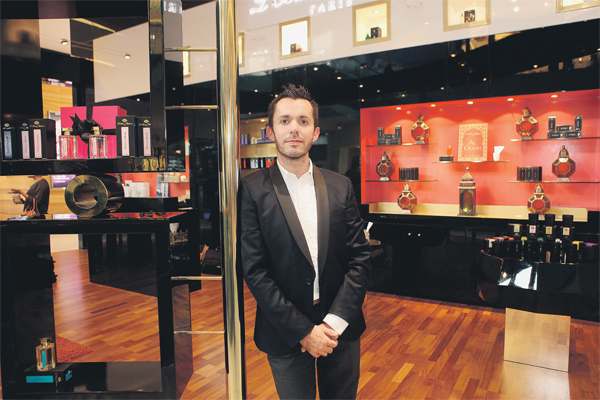 The global downturn has not been bad news for everyone. In fact, for some in the luxury goods industry, it has been a blessing.
"The credit crunch is helping us because it's forcing consumers to re-evaluate what they spend their money on. When they understand the value of a €100 (Dh503.5) bottle of fragrance they will buy one," says Nick Steward. As the International Marketing Controller of L'Artisan Parfumer Paris, the Briton has seen a number of changes in the luxury goods market over the past 12 months.
He has a distinct hate of the word luxury but believes the top end of the market has benefitted from the credit crunch as consumers seek to get value for money in all aspects of their spend.
"People are more cautious about spending money but we've not seen a massive decline in sales, it's a re-evaluation of what customers consume," he says.
It has been said many times over the past year that the luxury goods industry has ridden out the crisis due to its target audience still having disposable income but Stewart, who has worked for both mass market and boutique perfumers, believes small companies are wining the war as a result of their return to core values.
"The crisis has made brands in the luxury goods sector go back to what they do best. You want to buy a watch from a Swiss watch brand because they have had expertise since 1876; you don't want to buy a fragrance from them."
Shunning the traditional advertising strategies of using celebrity endorsements, Steward instead spends his budget on the product as he believes that is what sells a fragrance more than anything else.
But he also predicts online networking will become the strategy du jour in reaching a new generation. "I think we'll be increasingly investing online and going into social media. There are a lot of internet blogs out there about fragrance and they very much favour niche brands," says Steward, who previously worked at L'Oreal's headquarters in Paris.
He also believes this word of mouth approach is more effective from a trust perspective and is the reason they shun celebrity endorsements so often seen by the large cosmetic houses.
"It's a strategic choice for many small brands not to advertise. It might mean it takes longer for people to discover the brand but doing it through point of sale or word of mouth makes it more personal than discovering a fragrances they know everybody else wears," he says. "Just pushing messages can be very fickle as it becomes just about turnover whereas we are trying to build long-term loyalty." But the brand, which was founded in 1976 by perfumer-chemist Jean Laporte, believes small perfumers must encourage each other to avoid being drowned out by the super powers.
"You can find the same roaster of three or four big brands wherever you go so people are crying out for exclusive brands, which opens the door for niche brands," says Steward. "I want the others to succeed because if they do, the more we educate the customer.
"It's the moment for niche brands. When I speak to retailers around the world the trend is to kick out the big players as they are not driving footfall. It's like a club and we all help each other so when they grow, we grow." Laporte had a vision of how French fragrances were created rather than building his company from a business perspective. The group opened its first outlet in Dubai in Wafi three years ago and has gone on to have a standalone boutique in The Dubai Mall as well as a concession in Bloomingdale's.
There are also a couple of new scents for 2010, beginning with Timbuktu, a fruity, spicy fragrance and an as yet unnamed fragrance, in the second half of the year, both of which come on the back of last year's Al Oodh, which was sold out by Christmas.
"People think we have a commercial goal and want to exploit this area but Al Oodh was not created for this market. Bertrand [Duchaufour, the master perfumer] likes the oriental register of notes and woods and that's where it started. We are not driven by a sales meeting," says Steward.
Although the company's only Middle East presence is Dubai, it is something they are seeking to build. The region accounts for "single digit global turnover but it's growing", says Steward.
"There's a great tradition of perfume in the Mideast and great consumption of fragrance so it's definitely an area where we could be doing more."
And with plans to branch out into Abu Dhabi and other GCC nations, that goal is not far away.
Follow Emirates 24|7 on Google News.