Value and nostalgia are top consumer trends for 2010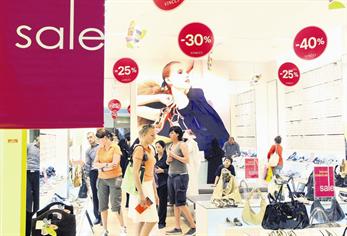 Businesses around the world are trying to put the recession behind them, and at such a time, when executives are attempting to map out the year ahead, predicting the needs of the consumer are more important than ever.

"It is vital for businesses to know what consumers want, because if they know what the consumers need and want, they have a better chance to sell and boost business in these troubled times," Olivier Auroy, Managing Director, gsFITCH Dubai, told Emirates Business.

Reinier Evers, founder of Trendwatching.com, said: "It is always important to know where consumers are headed, as that is what business is all about – serving changing consumer needs. It is extra-important in 2010 because consumers are insecure and thus any brand that can help them solve their worries, any brand that shows they understand their situation, will be remembered when times are good again."

Asked what consumers want, both in the UAE and globally, Auroy said: "It all goes to one direction – after the crisis, consumers don't want to be cheated.

"They want fair deals, they want to be able to take the time to buy the right thing. Everything becomes more tangible, real and value-oriented. They only want to pay for what they need. They want transparency of price and they will be ready to spend more time to get the right thing at the right price."

Evers added: "The recession has underscored the importance of trends that highlight the fact that consumerism based on greed, on solely trying to sell and own the best and biggest and most expensive is not sustainable anymore, both from a financial and an ecological point of view."

We round up a list of the trends that will dominate the UAE and the world in 2010.

More community

From B2C to C2C. Consumers influence each other. They are the decision-makers but they are the influencers as well. Think of the power of Facebook.

With more people sharing everything they buy and experience, and with even more internet search engines making it easy to find these reviews, 2010 will see consumers tapping into a live stream of experiences from fellow consumers.

Seek value

Consumers under pressure not only think more critically about where they spend their money but also about what exactly they are getting in return.

Pinched times call for more prudent measures so consumers are adopting a new zeal in determining precisely what features they deem worthy of their money. They are carefully scrutinising the exact product features they need so that they don't overpay.

They only want to pay for what they need. They want transparency of price. It is bidding versus buying (such as ebay and souk.com). They will be ready to spend more time to get the right thing at the right price.

Innovation explosion

Shops will come to consumers. Consumers will be able to try before they buy. More flexibility will be needed. Look at the development of the pop-up shop: the shop comes to your neighbourhood, you don't have to go to the shop.

And as more and more people move into Dubai and Abu Dhabi, the more sophisticated, demanding consumers will snap up more innovative goods, services and experiences. This creates fertile grounds for innovative B2C brands.

More technology

More convergence and ease of purchase. From finding the online price via their web-enabled mobile phones, consumers will be able to buy from their phone soon.

For example, do we realise that 28 per cent of Indian mobile users access the internet for shopping?

Greener still

Green is in, forever. Not just because consumers are becoming more conscious of their impact and responsibility towards the environment but also because businesses will themselves not be able to pass up the opportunity to make mind-boggling fortunes if they can figure out how to get the world off its addiction to polluting power sources and wasteful consumption.

Recession or not, consumers will continue to demand responsible behaviour from brands.

Shop smarter

Recession-stressed consumers who want to continue consuming the products they value will continue looking more aggressively for a good price. They will look out for special bargains and promotions and will also hold off their purchases until they find that bargain. Smarter shoppers take advantage of channels such as the internet and hyper-discounts in order to find the same product at a lower cost.

(F)luxury

In 2010, luxury, and what it means to a bewildering number of consumer segments will remain in flux. Luxury will be whatever you want it to be. So don't worry about missing out on the next big thing in luxury, focus on defining it. How? By finding and coining the right (status) trigger for the right audience. Just declare that the end is nigh for anything that is getting a little too affordable, too accessible, too polluting, or just too well-known.

Then introduce something very different (if not the opposite), appealing to the in-crowds who are ready to jump ship anyway.

Embedded generosity

It was big in 2009, and it will be even bigger in 2010. It incorporates all giving initiatives that make giving and donating painless, if not automatic. On top of that, with collaboration being such an integral part of the times, expect lots of innovative corporate giving schemes that involve customers by letting them co-donate or co-decide.

Check out these innovative, corporate embedded generosity examples: Ikea's Sunnan LED desk lamp is powered by solar cells. For every unit sold in Ikea stores worldwide, another one will be donated to Unicef to give to children without electricity in refugee camps and villages in remote areas.

Procter & Gamble and Unicef have joined forces in an effort to raise money for tetanus vaccines. Each time a pack of the Pampers or Fairy brands bearing a "1 Pack = 1 Life-Saving Vaccine" logo is purchased, P&G will donate the cost of one vaccine to Unicef.

Nostalgia marketing

Storybook sentiment has got hold of consumers looking to escape their stresses and to find a temporary refuge from adult responsibilities. Nostalgia marketing holds great appeal in times of uncertainty as it allows consumers to reminisce, bringing them back to simpler, more carefree times.

As the aftereffects of the recession will be felt for some years to come this one is a gold mine.

Profile mining

Now that millions of consumers maintain some kind of online profile/presence, who is going to set up an intermediary representing consumers who are willing to disclose (parts of) their purchasing intentions, and then invite companies to put in bids?

With personal profiles representing an ever-greater financial value, expect a burgeoning market for services that protect, store and, in case of emergencies and death, arrange handing over of one's digital estate to trusted others.

For example, Swiss DNA Bank, which launched in August 2009, stores, protects and hands over individual data. For a one-time fee of $399 (Dh1,464), customers can store both their DNA and up to 1GB of digital data, forever.
Keep up with the latest business news from the region with the Emirates Business 24|7 daily newsletter. To subscribe to the newsletter, please click here.
Follow Emirates 24|7 on Google News.