$140m Damac suit under way at DIFC courts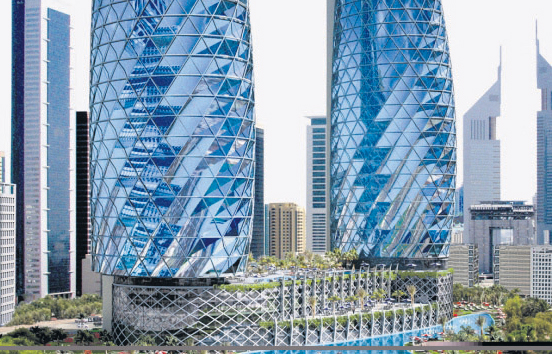 Damac has allegedly used investments from cancelled property projects to fund the Park Towers, a twin-tower development located in Dubai International Financial Centre, the DIFC courts heard yesterday.
Lawyers representing a German investor, Dr Lothar Ludwig Hardt, said the developer allegedly used the money from other property projects to construct Park Towers, the only development that appears to be ongoing out of the five that Hardt had signed up in February 2007.
"These close links show the other four properties are connected to Park Towers… which should have been finished two years ago," Ludmila Yamalova, legal consultant and partner at Al Sayyah Advocates and Legal Consultants, told Emirates Business. She said Hardt has invested $9.7 million on five properties which, in addition to Park Towers include the two cancelled projects – Lotus Residences and Wildflower; Ocean Heights, which was scheduled for completion eight months ago; and Water's Edge, where construction hasn't been started yet.
The German investor is thus demanding refund of $9.7m and is seeking damages and lost profits caused by the developers' breach of contract and other violations of the UAE, Dubai and DIFC Courts. Yamalova estimates that damages, loss of profits plus all the legal fees could go up to $140m.
"As of today, defendants have not delivered any of the properties and have not complied with any of the contractual obligations to claimants," a claim form seen by Emirates Business said.
"Defendants have committed a series of violations of UAE, Dubai and DIFC Laws in connection with properties such as enticement and unfairness, illegal sale, failure to obtain necessary approvals, failure to commence construction timely, failure to timely register developer and obtain necessary license, mismanagement of escrow funds and violation of trust account regulations, unfair contracts of adhesion, fraud and deception… illegal competition, bribery, trickery, breach of trust, cheating in commercial transactions, money laundering and accomplice liability," said the claim form.
Damac has not submitted a rebuttal on the substantive grounds and instead questioned the jurisdiction of the DIFC courts to hear the case. It has filed a motion to stop the lawsuit from being heard and has also moved to strike the case entirely on the basis of jurisdiction.
Law firm Simmons & Simmons argued that parties concerned have agreed in the contract that any disputes will be governed by Courts of Dubai and therefore Courts of Dubai has exclusive jurisdiction of the case.
Claimants argue that DIFC Courts is one of the Courts of Dubai but defendants say that Courts of Dubai only refers to the local Dubai Court.
"We argue that DIFC courts has jurisdiction over all these properties because it has jurisdiction over Damac LLC and Damac Property LLC is the entity to whom all the payments to all the other projects were made," Yamalova said. "They use different names but they all own each other. Damac LLC is owned by Damac Investment and so on and so forth."
Damac has other cases pending in Dubai Courts but this is the first time that a case against it is lodged in DIFC courts.
"It's a complicated issue of jurisdiction. It is an untested waters. But I think we have a strong case," Yamalova said.
She said it is more favourable for the defendants to hear the case in Dubai Courts because of the time delaying factor.
"There it'll take longer and we'll have to file five separate cases," she said. "In this case, we need to file 45 different cases and would have to pay Dh30,000 for each and would have to translate everything into English – so that's additional expense."
Keep up with the latest business news from the region with the Emirates Business 24|7 daily newsletter. To subscribe to the newsletter, please click here.
Follow Emirates 24|7 on Google News.