75 years on, fans are still stuck on Elvis and his music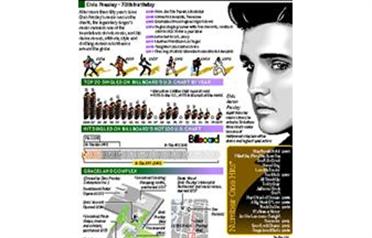 Unconfirmed sightings aside, Elvis lives on for millions of his fans worldwide, and in cities across the globe many are getting ready to celebrate the King's 75th birthday tomorrow.

The biggest party will be here in Memphis, where January 8, 2010, has already been proclaimed Elvis Presley Day, and events including live music and exhibits are planned. But celebrations are also happening globally, with Elvis fan clubs organising events in Tokyo, London, Paris and elsewhere.

"Elvis is one of those rare people who came along who resonated across cultural lines," said Howard Kramer, who curated the Elvis exhibit at the Rock and Roll Hall of Fame in Cleveland, Ohio.

Even 32 years after his death, the man born Aaron Elvis Presley retains a fan base that is almost unrivalled in numbers and geographic reach, he added.

Elvis is "still out there as an important cultural figure," says Erika Doss, a professor at the University of Notre Dame's American Studies Department.

For Doss, the author of Elvis Culture: Fans, Faith, and Image, the King's popularity endures because he offers something different to each fan.

"For some, he will always be the rockabilly rebel from the 1950s, for others he's very much the Las Vegas superstar. For some he is the patriotic American who went into the military in the late 1950s and for others he's sort of a good old boy gospel singer," she said.

But Elvis also remains relevant because he was so far ahead of the cultural curve, Doss says. "He was an incredibly good-looking guy who deliberately violated all sorts of sex and gender norms in the 1950s and was attractive to both men and women at the time.

"And, you know, you watch him today, you still see it. He is shockingly good-looking and dynamic."

However fans remember him, the most hardcore will be flocking to Memphis, where ex-wife Priscilla and daughter Lisa Marie Presley will take part in a birthday cake cutting on the front lawn of the King's former home, Graceland. "Elvis continues to be popular all over the world, and fans tend to come on the five-year anniversaries,"?said Graceland spokesman Kevin Kern.

Opened to the public in 1982 and a national monument, Graceland draws nearly 600,000 visitors a year, making it one of America's most visited homes.

In honour of the King's birthday, the estate will unveil a new exhibit entitled From Tupelo to Memphis, chronicling Elvis' early life from his birth in small-town Mississippi to his high school graduation in Memphis up to just before he stepped into the international spotlight.

Born on January 8, 1935, the man who would become known as the King of Rock and Roll, grew up surrounded by the influences of popular country music and the gospel songs he heard at the Pentecostal church where his family worshipped.

The way he combined those influences to create a new sound had a lasting effect on music, said Jeff Melnick, Associate Professor of American studies at Babson College, Massachusetts. "It's so central to our musical vocabulary, the idea of borrowing from other genres or literally creating remixes or mashups. That's really in our musical DNA now."

Elvis's early death, at 42, did not create his iconic image, according to Melnick.

"He didn't die young enough," he said. "He didn't die so young that we remember him as this always fresh-faced, wonderfully energetic guy. Far from it, he's much more the image of what happens through excess."

But his image as an ultimate entertainer persists nonetheless in large part because of the many recordings of the young Elvis. "There's preserved this unbelievable footage of this young, incredibly athletic, incredibly sexy (guy who was just doing stuff that no one had done before," he said. "He was just really good." Millions of fans agree, and Elvis continues to influence musicians today.

Curator Kramer says the key to the King's long reign is quite simple. "Truth be told, greatness is what endures, and the reason we're still talking about Elvis Presley long after he died is because his music is great."
Keep up with the latest business news from the region with the Emirates Business 24|7 daily newsletter. To subscribe to the newsletter, please click here.
Follow Emirates 24|7 on Google News.