A Chipmunks 'squeakquel' for your collection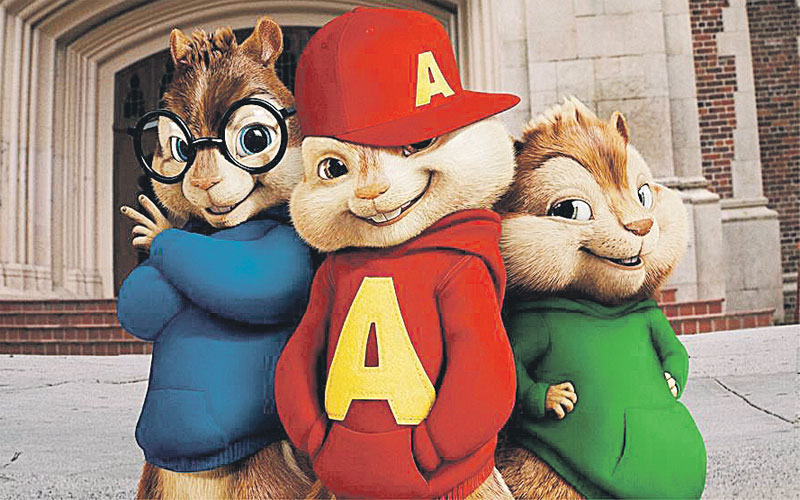 Opening with a high-pitched "We're back!" over the credits, Alvin And The Chipmunks 2: The Squeakquel sees everybody's favourite trio take on more than they bargained for.
Singing chipmunks Alvin (voiced by Justin Long), Simon (Matthew Gray Gubler) and Theodore (Jesse McCartney) continue to thrive in the cutthroat music business.
When the boys' surrogate father Dave (Jason Lee) is consigned to a hospital bed, the youngsters stay with Aunt Jackie (Kathryn Joosten) and nephew Toby (Zachary Levi), who enrolls the chipmunks at high school where the pop stars secure a nomination to represent their classmates at a battle of the bands.
Aggrieved former manager Ian Hawke (David Cross) enrolls the Chipettes – aka Britney (Christina Applegate), Eleanor (Amy Poehler) and Jeanette (Anna Faris) – at the very same school, then petitions headmistress Dr Rubin (Wendie Malick).
The battle of the rodent sexes, Chipmunks versus Chipettes, tests friendships to the limit.
The Squeakquel treads a familiar path, driving a wedge between the tiny heroes then reuniting them for a foot-stomping finale to the strains of We Are Family by Sister Sledge and Shake Your Groove Thing by Peaches & Herb.
The simplistic, linear plot holds no surprises, incorporating a boo-hiss, high school jock villain (who naturally gets his comeuppance), wholesome lessons about friendship and self-sacrifice, and chaste romance that nervously approaches the kissing stage.
Young viewers will love the silliness of it all – the chipmunks whooping You Spin Me Round (Like A Record) by Dead Or Alive as they take a high-speed turn in a food mixer – with the odd concession to older viewers, like the opening musical gambit, You Really Got Me by The Kinks.
The film took $442 million (Dh1.62 billion) at the worldwide box-office last year – on a budget of $75m.
A two-disc set comprising the original Alvin And The Chipmunks and the sequel is also available.
DVD extras include Munk Music Machine, three music videos with sing-a-long lyrics (Single Ladies, We Are Family, Shake Your Groove Thing), as well as a free digital copy of the film.
- Alvin And The Chipmunks 2: The Squeakquel is out now at DVD stores across the UAE from Dh125
Follow Emirates 24|7 on Google News.