A return to glory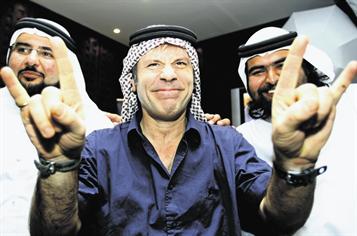 The band's frontman – and qualified airline pilot – Bruce Dickinson, flew the band and crew out on their custom-made private aeroplane, Ed Force One, to the emirate earlier this week for the beginning of the final leg of their Somewhere Back in Time tour. Dickinson revealed that, without their own private plane, their latest tour wouldn't have even been possible to implement.

"We couldn't do this tour without the aeroplane. It wouldn't be economical to do it," he tells Emirates Business. "For most companies, it is difficult to justify private planes when you have only two people flying on it. However, this is a unique plane. We've taken the most economical aeroplane you could find, which is a long-range 757. We carry our equipment, we carry our road crew," he says.

"We run a European itinerary on a continental basis. Now we're in Dubai, then a travel day later we're in Bangalore, two travel days and we're in Auckland, and then two more travel days we're in Mexico. You simply cannot do that with conventional transport."

Dickinson went on to add that it is also a more convenient method for the band.

"When you're using normal transport, you're tied to airline schedules, and you're tied to transportation arrangements for loading and unloading a freight. The freight we have onboard now – all our equipment for the show – has already cleared customs.

"With conventional arrangements, it would be sitting in a warehouse for a couple of days.

"All of this racks up a huge amount of costs and we just want to play shows."

This will mark the group's second performance in the emirate, following their debut in 2007 at the Dubai Desert Rock Festival.

While their first gig mainly consisted of tracks from A Matter of Life and Death, this show will consist of hits from the 1980s, with a specific focus on the Powerslave era for set design.

Dickinson added that they chose to return to Dubai because they had such a great time during their last visit.

"Dubai is a terrific place it has a great deal to offer," he said. "The thing that impressed me the most was the turn-out – we had no idea what the crowd was going to be like. It ended up being this pan-Arab gathering of heavy metal fans, which was cool."


Grab your tickets for these hot Gigs

Following this week's three-day gig extavaganza, it appears that organisers aren't slowing down anytime soon. Tickets for two other major concerts go on sale this week.

First up is Andrea Bocelli, who will be performing live at the Emirates Palace in Abu Dhabi on March 27 as part of the 6th Abu Dhabi Music and Arts Festival.

Tickets for the biggest selling classical soloist of all time have just gone on sale and are priced at Dh300, Dh600, Dh1,000 and Dh1,500.

The next day, March 28, will arguably be one of the hottest tickets of this year when British band Coldplay makes its UAE debut.

The British band, pictured, will also perform at the Emirates Palace, and tickets are expected to go on sale this Sunday, priced at Dh295, Dh495, Dh795, and Dh895.

Both concert tickets are available from Boxofficeme.com and Virgin Megastores.
Follow Emirates 24|7 on Google News.