A roundabout exploration of our world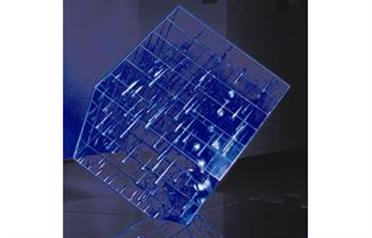 At Dubai's XVA Gallery until January 30 is an interesting little show that seeks to present new possibilities in old situations. A group exhibition, Five Artists X 3 Dimensions attempts to bring together artists from different generations who explore the three dimensions by way of sculpture. However, none of them are sculptors themselves.

Sculpture is a very general term given to art works in three dimensions, but the way each artist interprets this is the surprise here.

Collector and curator Kamran Diba has chosen to edit and digitally alter other people's photographs of an installation by Bita Fayyazi for the Louis Vuitton cultural centre in Paris. In this way, documentations of a sculpture are the basis of different works dealing with the third dimension despite their 2D limits.

Mahsa Karimizadeh, on the other hand, contorts foam sheets of various thickness and sticks long colourful needles in them to make spacey "sci-fi" "sculptures" flowing, climbing or simply lying on the floor. Kambiz Sabri uses materials like plexiglass, chrome and wire mesh to freeze action in space. While Sahand Hessamian arranges dome shapes covered in pigment to resemble a bird's-eye view of a habitat and bulbs that write words in bryle, Sara Abbassian is all about black and integrating of materials, as well as every-day objects transforming themselves into sculptures.
Follow Emirates 24|7 on Google News.