A wedding you'll be happy to avoid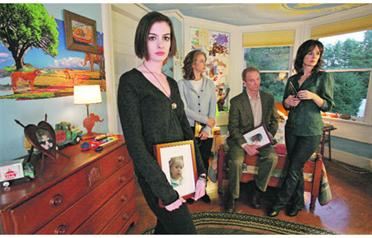 Ever been to one of those weddings that just won't end?

Rachel Getting Married is the cinematic equivalent, a movie with a powerful performance from Anne Hathaway but a story undone by the self-indulgence of director Jonathan Demme, who loiters on some scenes.

Those of you who were lucky enough to skip the surprise screening of the movie at December's Dubai International Film Festival missed the agony of enduring this endless docudrama.

In Demme's defence, his detour into documentaries actually serves him well as he crafts a style that infuses great authenticity into this anguished reunion tale of family and friends.

But Demme did the reflect-real-life thing almost too well. Many moments are genuine to the point where you feel trapped in a room with someone else's relations in a marathon session of picking at old wounds.

As good as Hathaway and her co-stars are, a lot of recriminations and reproaches collapse under the weight of the family's shared distress.

Stripping away her Princess Diaries persona for good, Hathaway delivers a harsh, uncompromising turn that should put her on the best-actress short list for the Oscars.

Hathaway's Kym Buchman is a user and abuser, a woman who became a hopeless addict in her teens then sank even lower after her drug habit led to a family tragedy.

Out of rehab for the wedding of her upright sister, Rachel (Rosemarie DeWitt), Kym returns to the homestead and immediately tries to make the hustle and bustle of preparations all about her.

Kym and Rachel's dad and step-mum, ably played by Bill Irwin and Anna Deavere Smith, try to make the black-sheep daughter feel welcome and wanted through a succession of awkward, often angry exchanges among Kym and her sister.

Much of the tension is deliberately initiated by Kym, who is as much an addict of drama-queen histrionics as she is of chemical substances. She has interpreted the stages of her 12-step recovery programme in a way that is horribly hurtful to her family, threatening the shaky peace that everyone hopes will prevail through Rachel's wedding to musician Sidney (Tunde Adebimpe).

It's a testament to Hathaway that despite the unpleasant depths she explores, Kym is never just the prodigal daughter who comes home to douse a joyous weekend with her emotional baggage. There are times you wish the family might show Kym the door (and some of her relations oblige, particularly her mum, played by Debra Winger).

Where the film strays is in the details – an endless and often boring sequence of toasts at a rehearsal dinner, repetitive bickering between maid of honour Kym and a bridesmaid, a bizarre mini-drama surrounding a competition over who can load a dishwasher the fastest.

Demme weaves his love of music into the movie, orchestrating an organic musical score created out of live performances taking place throughout the household as the family's many musical friends rehearse and jam.

Palestinian musician Zafer Tawil and jazz saxophonist Donald Harrison Jr composed the score and perform throughout the movie. Among others who provide music are Robyn Hitchcock, the subject of Demme's documentary Storefront Hitchcock, and the director's son, Brooklyn Demme.

Rachel is overrun with Demme's friends, and perhaps that contributes to the movie's bloat. No doubt it was fun assembling so many close associates, but like Kym, Demme doesn't know when enough is enough for those who aren't part of the family circle.
Follow Emirates 24|7 on Google News.