All that monkey business has Delhi in a fix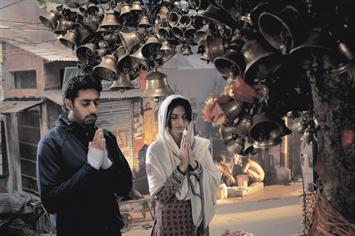 After the success of Rakeysh Omprakash Mehra's Rang De Basanti, his Delhi-6 has been eagerly awaited by fans and critics. But disappointment may just be on the cards.

The film, which had its premiere in Dubai on Wednesday, is a portrayal of a young man's journey of self-discovery, set in old Delhi, or Delhi-6 – the number being the postal pincode of the ancient walled city.

If Mehra's Delhi seems too glorified for the sake of celluloid, then you wouldn't be off the mark. However, the charm, rustic appeal and the predictable chaos does add that bit of realism to a story, which can be understood by second and third generation Indians who stay away from their home country and can't identify with the red tape, corruption and racial politics that play an integral part of modern-day India.

Unfortunately, the film's plot unravels two hours into the proceedings, alienating most viewers. The endless songs add to the misery.

Based on Delhi's infamous 'monkey man' sightings that had terrorised the city a few years ago, the film aims to highlight that this hated monkey man exists within us. Abhishek Bachchan is no RDB's Aamir Khan, yet he manages to get under the skin of his character, Roshan, an American by all sense and purposes, who flies to Delhi to escort his ailing grandmother (Waheeda Rehman) where she wants to spend her last days.

Reeling from the culture shock, Roshan gradually discovers order to the chaos and finds love in Bittu (Sonam Kapoor), a woman attempting to break free from conservative India's social biases. Along the way, the two will encounter communal disharmony that will threaten their world.

Mehra attempts to convey a message through Delhi-6: Religion and politics define the life of an average Indian, but how you rise above it all, with your integrity intact is what defines the individual.

Unfortunately, the message gets lost in translation.
Follow Emirates 24|7 on Google News.