Also showing in the cinema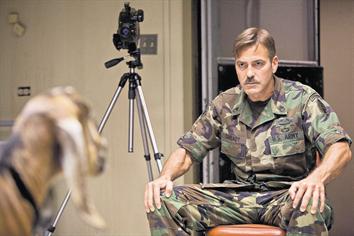 The Men Who Stare at Goats

Reporter Bob Wilton (Ewan McGregor) is in search of his next big story when he stumbles across something even better.

He encounters Lyn Cassady (George Clooney) – who claims to be part of an experimental US military unit in which a legion of Warrior Monks can read the enemy's thoughts – pass through solid walls, and even kill a goat simply by staring at it.

Nine

This film is a vibrant and provocative musical that follows the life of world famous film director Guido Contini (Daniel Day-Lewis) as he reaches a creative and personal crisis of epic proportion, while balancing the numerous women in his life.

These women are played by a string of international stars, such as Marion Cotillard, Penelope Cruz, Nicole Kidman, Judi Dench, Kate Hudson, Sophia Loren and Black Eyed Peas' Fergie.

Pandorum

Starring Dennis Quaid and Ben Foster, Pandorum is the story of two astronauts who awaken in a hyper-sleep chamber aboard a seemingly abandoned spacecraft.

It is pitch black, and they cannot remember anything, not even who they are. As they venture deeper into the ship, however, they begin to uncover a terrifying reality.

Chance Pe Dance

In this Bollywood flick, Shahid Kapoor stars as Sameer, a talented and passionate struggling actor.

Positive and brimming with energy, Sameer juggles various jobs while working towards getting his big break in the industry. During his struggle he meets Tina, a choreographer who urges Sameer to enter a reality TV talent contest.

Armored

Matt Dillon, Jean Reno and Laurence Fishburne play a crew of officers at an armoured transport security firm, who risk their lives when they embark on the ultimate heist – against their own company.

Armed with a seemingly fool-proof plan, the men plan on making off with a fortune with harm to none. But when an unexpected witness interferes, the plan quickly unravels and all bets are off.

Maatook Fi Bangkok

This Kuwaiti comedy is about a man called Maatouk, and his hilarious journey across Bangkok, Thailand.
Keep up with the latest business news from the region with the Emirates Business 24|7 daily newsletter. To subscribe to the newsletter, please click here.
Follow Emirates 24|7 on Google News.