Also showing in the cinema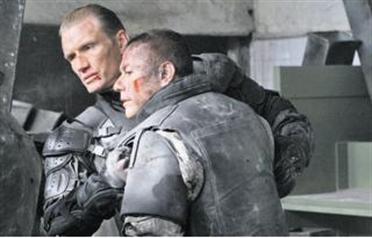 Universal Soldier: Regeneration

Talk about the ultimate pairing: Jean Claude Van Damme and Dolph Lundgren star in the latest instalment of the Universal Soldier franchise.

When terrorists threaten nuclear catastrophe, the world's only hope is to reactivate decommissioned Universal Soldier Luc Deveraux (Van Damme). Rearmed and reprogrammed, Deveraux must take on a next-generation "UniSol" (Lundgren).

Let the comedy begin.

Veer

In this epic adventure directed by Anil Sharma, Salman Khan stars as Veer in this love story centering on a warrior of the Pindari clan.

Badel Faked

This Egyptian action-thriller features Ahmed Ezz as twins who were separated when they were three years old.

One becomes a drug addict, living with his girlfriend who is a bellydancer, while the other is a law abiding citizen who lives with a policeman.

Badel Faked is the story of the pair as they attempt to track the other down.

La Linea

Loosely based on the infamous Arellano Felix drug cartel, La Linea is set in bustling Tijuana Mexico, where veteran assassin Mark Shields (Ray Liotta) tries to track down Pelon, the elusive head of the Salazar Crime Cartel (Andy Garcia).

When Shields crosses paths with Olivia (Valerie Cruz), an addict struggling to kick the habit for the sake of her daughter, the stakes multiply.

My One And Only

The beautiful Ann Devereaux (Renee Zellweger) leaves her philandering husband and takes to the road with her teenage sons in search of a wealthy replacement. As the miles roll by, their journey veers from eccentric, to hair rising, to poignant, to comic.

But ultimately, two teenage boys discovers the determination, dignity and love underneath their mother's narcissistic exterior.

The Other Man

Directed by Richard Eyre, The Other Man is a tale of a man (Liam Neeson) who discovers his wife's (Laura Linney) infidelity.

Also stars Antonio Banderas.

Winx Club: The Secret of the Lost Kingdom

This animated feature film is based on the Italian television series Winx Club.

The only known name associated with this production is Natalie Imbruglia, who sings the film's theme song, All the Magic.

Ace Ventura Jr

When a panda cub goes missing from the zoo, Ace Ventura Jr (Josh Flitter) must follow in his father's footsteps to prove his mother innocent of the theft, as well as returning the baby panda to its mother.
Keep up with the latest business news from the region with the Emirates Business 24|7 daily newsletter. To subscribe to the newsletter, please click here.
Follow Emirates 24|7 on Google News.