Also showing in the cinema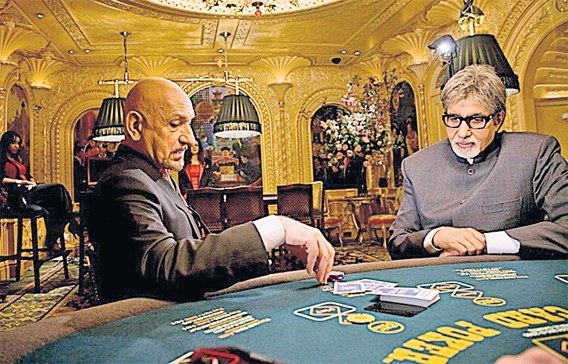 Teen Patti
Set in India and England, and starring two of the greatest actors of our time – Amitabh Bachchan and Sir Ben Kingsley – Teen Patti is an emotionally riveting and razor sharp thriller about greed, deception and giant feats of imagination.
Kingsley plays Perci Trachtenberg, regarded as the word's greatest living mathematician. One night at a London casino, he meets Venkat (Bachchan), a reclusive math genius from India, who tells Percy about an equation that could not only change the dialogue on mathematics forever – but one that has already left an impression of guilt for many painful reasons on Venkat's life.
The Lovely Bones
Based on the critically acclaimed best-selling novel by Alice Sebold, and directed by Oscar winner Peter Jackson, The Lovely Bones centres on a young girl who has been murdered and watches over her family – and her killer – from heaven. She must weigh her desire for vengeance against her desire for her family to heal. Stars Mark Wahlberg, Rachel Weisz, and Susan Sarandon.
Saw VI
Special Agent Strahm is dead, and Detective Hoffman has emerged as the unchallenged successor to Jigsaw's legacy. However, when the FBI draws closer to Hoffman, he is forced to set a game into motion, and Jigsaw's grand scheme is finally understood.
When in Rome
In this romantic comedy, an ambitious young New Yorker disillusioned with romance (Kristen Bell) takes a whirlwind trip to Rome where she defiantly plucks magic coins from a "foolish" fountain of love, inexplicably igniting the passion of an odd group of suitors.
But when a charming reporter, played by Josh Duhamel, pursues her with equal zest, how will she know if his love is the real thing?
Karthik Calling Karthik
This Bollywood film is the story of an introvert called Karthik (Farhan Akhtar), whose life changes with the help of someone who also claims to be Karthik.
It is a journey of this man's victory against all odds. Deepika Padukone also stars in the film.
Amir El Behar
In this Egyptian comedy, Mohamed Heneidy stars as Amir, a young sailor who goes out into the sea, only to be captured by pirates.
There he meets a group of people who have also been captured, including the beautiful Salwa (played by Sherry Adel).
Keep up with the latest business news from the region with the Emirates Business 24|7 daily newsletter. To subscribe to the newsletter, please click here.
Follow Emirates 24|7 on Google News.