An Egyptian epic set to charm moviegoers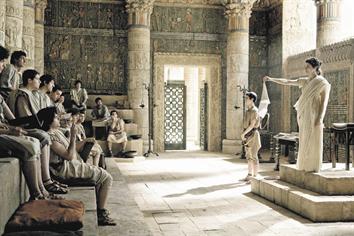 Although no self-respecting epic can come in at less than two hours, Alejandro Amenabar will nevertheless need good word-of-mouth to attract audiences willing to sit through 144 minutes and a heavy-handed beginning in his latest film, Agora. Hopefully, he will get it.

Amenabar gets most of the epic staples out of the way relatively early: flatly acted scenes of textbook exposition, overly earnest extras, main characters who wander unscathed through hordes of butchery and, of course, frequently swelling music. The story then becomes a timely parable on religious intolerance, inexorable fundamentalist violence and the powerlessness of reason and personal freedom in the face of both.

The heart of the film is Hypatia (Rachel Weisz in an unfaltering performance), the fourth century AD philosopher and teacher who lived in Alexandria during the Roman Empire. Married only to her unquenchable intellect and passion for mathematics and astronomy, she is loved by two men: her slave, Davus (Max Minghella), and her student, Orestes (Oscar Isaac).

Politics in the film are weakest during the overtly political speeches and monologues, and best captured in the details. Like many, Davus seeks not spiritual salvation in the Christian uprising but freedom from slavery, despite the bloodshed. His first attempt at prayer is brilliant: Unable to remember the Lord's Prayer, he quickly falls into a mantra to God to keep Hypatia away from Orestes. For his part, Orestes will renounce paganism and convert to Christianity during his rise in Roman politics.

Amenabar and screenwriter Mateo Gil adeptly show that each character's destiny is written from the onset. As is history when hatred and power lust are corruptly instrumentalised in the name of a single, incontestable truth.

There is also no question as to what side the filmmakers are on. The Christians in Agora are more preoccupied with slaughtering than spirituality and the only truly principled character is Hypatia the atheist, who may have come close to proving that the earth revolves around the sun 1,200 years before Johannes Kepler. She is the only one who never sacrifices her unwavering "faith," in reason and intellectual freedom, for personal gain.

It is a pleasure to see Weisz's scenes of scientific inquiry, which capture the passion of research and discovery without artifice or pretension. That the scientist is a woman makes it all the more engaging.

The entire cast comes through very well after the shaky beginning, and while Minghella says little he has good screen presence. However, the biggest surprises are the lesser-known supporting actors: Isaac; Sammy Samir as a bishop seemingly devoid of human emotion; and Ashraf Barhom, whose Ammonious, a Christian Parabalani, is the epitome of a devout-less thug.
Keep up with the latest business news from the region with the Emirates Business 24|7 daily newsletter. To subscribe to the newsletter, please click here.
Follow Emirates 24|7 on Google News.