Anne finally finds herself as Oscar buzz surrounds her latest release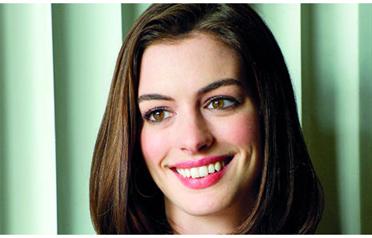 From princess to fashion queen to black sheep of the family to the jealous bride from hell, Anne Hathaway has come a long way on the silver screen. It's difficult not to recall the gawky girl whose first prominent role was in Disney's 2001 family comedy The Princess Diaries starring opposite Julie Andrews, in which she went from geeky high school girl to real-life princess.

Anne, now 26, would later venture away from the "G-rated" image her early acting career bestowed upon her, starring in the adult-themed films Havoc and Brokeback Mountain.

The New Yorker has had a busy year. First she was seen in the action-comedy Get Smart, starring Steve Carell. Now, she is appearing in the challenging role of Kym in Rachel Getting Married, which had a stellar premiere at the recent 2008 Dubai International Film Festival and has Oscar buzz. The film is on general release in the UAE this week.

She is also starring in the romantic comedy Bride Wars with Kate Hudson, a sort of chick flick version of a combat movie.

Anne stopped by to weigh in – in more ways than one – on a very determined regimen for getting into shape to wear those super skinny bridal gowns.


How do you feel about the Golden Globe Best Actress nomination for Rachel Getting Married? Is the Oscar coming?

No, but I'm sure, as you can imagine, it's hugely overwhelming. I'm delighted, but it doesn't seem real and it seems to be an embarrassment of riches that I suppose I have to learn to become comfortable with.

You are exploring women from a variety of vantage points in your movies, including Bride Wars, Rachel Getting Married and the previous Becoming Jane Austen. What kind of woman are you?

I know a really rich, independent woman who told me that, at the end of the day, she loves being taken care of. Like it's not a bad thing if a man wants to take you out to dinner and pay the check. But for me, I like knowing that I can pay the check, you know?

Can you expand on that?

Well, I like feeling independent, but I also like being in a relationship. But I don't feel comfortable about people getting married, without any of their own merits. I think you have to have your own life going on. And then you find someone. And if that happens, I don't think it matters if they're as poor as can be, or unbelievably wealthy as you have your own life and you're not reliant upon anyone. Or rather, you're reliant on them for the right things.

Why do you think there's all this pressure for women to get married?

To be perfectly honest, I don't know. Nowadays, people accept that you can do what you want. I want to live the happiest life ever. If you're the person who doesn't want to get married, don't get married. But if you want to commit to someone and have that piece of paper, go for it.

I know all about how guys get into shape for their he-man roles. So what did you do, physically, to get in shape for all those dresses in Bride Wars?

We didn't eat for weeks – I'm starving. Kate would always do these stretching exercises, which made me think that I want to be able to touch my toes in the next few years, too. So, I worked with a trainer in New York. I wanted my character, Emma, to have that kind of body – like everything tight and proper and sinewy. So physically, I did whatever the character needed.

Did you and Kate become good friends on the set?

To have two complex female characters that are best friends at the centre of a movie, I haven't really seen that before. So anytime we were in those scenes where we have to go deeper, where there wasn't that formula in place in the script, I was actually feeling something new as an actress, because I'd never been in a situation like that. Kate was just there every time, listening, going deeper with me. I mean, to have one specific moment, there were so many, but to just return to those scenes again and again shouldn't be rare, but I guess it really is. I remember that and I'm really appreciative of it.

Tell me more about the girl bonding side of it.

I've always been a non-girlie girl. I found my best girlfriend later on in life, and my best friends were my brothers, and men. So to be around women and give in to the shoe love, I always thought, that's frivolous. But between shoots Kate and I would go on the internet, and she turned me on to [fashion sites]. And I realised how much I really like shoes. So I'm still myself, but I can be girlie as well.

Can you talk about your role in Alice In Wonderland?

I play the White Queen in it, and I think that's all I need to say.

PROFILE: Anne Hathaway Actress

Anne Jacqueline Hathaway was born in Brooklyn, New York and grew up in New Jersey but calls the Big Apple home.

The 26-year-old made her name in the television series Get Real (1999) before moving to the silver screen in The Princess Diaries (2001), after which she was named one of People magazine's "Breakthrough stars of 2001". It was The Devil Wears Prada (2006) opposite Meryl Streep, however, that cemented her Hollywood status.

Although there are rumours about her private life, she insists she is still single following her split with Raffaello Follier, who was jailed for fraud last year.
Follow Emirates 24|7 on Google News.