Another Khan steals Shah Rukh's thunder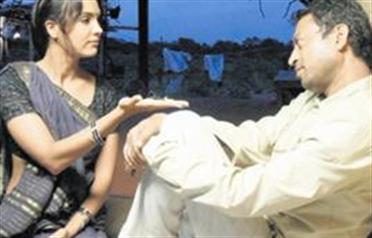 Shah Rukh Khan is not a happy bunny. After being hauled into court for upsetting India's barber-buddies, his home production will now be released as Billu – the word Barber has been given the snip. Thankfully, the title character's profession remains unchanged in this Priyadarshan-directed film.

Irrfan Khan is Billu, a village barber who seemingly lives a content life with his wife (an impressive Lara Dutta) and two children. What Billu successfully hides is that his business is ailing, primarily because he refuses to adopt the latest hairstyles.

Drowning in debt, things almost reach a stand-off until one day a film production unit sets up outside the village. Superstar Sahil Khan (Shah Rukh Khan) is shooting a song sequence and Billu jumps at this opportunity to inform the villagers the two are old friends.

Eager to meet the actor, the starstruck bumpkins urge Billu to set up a meeting. But when the barber doesn't deliver on his promise, everyone accuses him of being a liar and shun him.

To restore his honour, Billu sets out to meet Sahil, but the man in question is too busy singing and dancing with beauties Kareena Kapoor, Deepika Padukone and Priyanka Chopra.

Irrfan successfully captures the inner struggle of a man fighting his demons, while Shah Rukh simply does what he does best. Worth watching for Irrfan.
Follow Emirates 24|7 on Google News.