Are we a metal nation?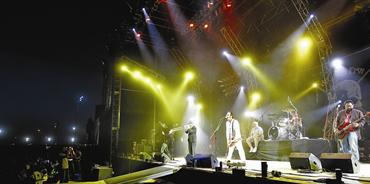 Thought Madonna and Britney Spears were the live music industry's saviours in these terrible economic times? Think again.

With the current global financial crisis, more concert promoters in the region are focusing on rock music – heavy metal, to be precise – to bring in the big bucks.

This is why the promoters behind what is arguably Dubai's biggest annual rock music event, the Desert Rock Festival, have decided to focus on the genre this year.

After having had to downsize from two days to just one this year, thanks to the financial crisis, Dubai-based organisers, Centre Stage Management (CSM) say they are highlighting the genre to tap into stronger fan loyalties.

"Due to the economy, we decided to have the festival for one day. This year we are focusing on heavy metal, because most of our requests are for that genre," Jackie Wartanian, Managing Director, CSM tells Emirates Business.

"We noticed that the audience we got on previous festivals' first days [which were dedicated to metal] were more passionate and faithful than the second day [which was dedicated to mainstream rock]. No matter who we brought – from an A-list artist to C-list – the audience was not as interested. So we're putting real effort into giving our most faithful festival-goers the best metal line-up they've ever seen in the Middle East."

And as Iron Maiden have already proved, there is a huge appetite for the genre in the UAE.

The legendary band, fronted by Bruce Dickinson, recently played a brilliant two-hour show to a crowd of 10,000 fans at Dubai Media City. With prices ranging from Dh295 to Dh595, tickets certainly weren't cheap, but it was a sell out.

A couple of days after their stint in Dubai, Iron Maiden pulled off a stunning victory at the UK's Brit Awards when they were voted Best British Live Act ahead of favourite Coldplay.

Maiden's manager, Rod Smallwood, said: "This has to be good for metal. It's about time it was recognised for the creative force it is."

Thomas Ovesen, Managing Director of AEG Middle East, who brought the group to Dubai, says: "At a time when most of us are looking to get the most out of our hard-earned money, people are increasingly turning to safe bets regarding live concerts.

"The amazing thing is that, the best of these metal bands can still deliver great shows full of energy and that, at the end of the day, is what the ticket holders want – value for money, songs more than four minutes long, lyrics that do not always deal with 'broken love' and concert sets that do not rely on a drum machine and lip synching."

Ovesen also adds that what makes these types of shows more popular is that they appeal to both older and younger music fans, as opposed to pop music's key demographic of eight to 25-year-olds.

"Fans look for that reminiscent moment where the height of their youth is relived by seeing one of those loud metal bands that they rocked out to 20 years ago.

"And young concert goers will always be attracted to real energy. With the DJ scene being replaced by rock acts, there is now a revived interest in metal and guitar-driven rock music."

Now in its sixth edition, this year's Desert Rock Festival is scheduled to take place next Friday, March 6, at Dubai Festival City, featuring British legends Motorhead in their first appearance in the Middle East since their formation in 1975, as well as Arch Enemy, Opeth, Chimaira, August Burns Red, and Nervecell.

However, with the festival taking a new direction in comparison to previous editions, what the organisers are saving in downsizing, they're making up for in re-branding.

CSM turned to creative agency TBWA-RAAD to contribute their expertise to the festival's revamp and new slogan entitled Metal Lives, and in turn, they contacted top Hollywood concept artist Christian Lorenz Scheurer to work on the project.

Scheurer is known for his work on various multi-million dollar entertainment productions, such as Titanic, The Matrix, and What Dreams May Come.

Although Wartanian refuses to disclose how much the revamp cost, she insists it will be worth it. "We felt it was time to revamp the image of Desert Rock," she says. "We wanted to match the artwork to the musical direction the festival has taken, and TBWA-RAAD did a great job with this campaign. I'm a big fan of Christian; he is a very talented artist."

Meanwhile, Scheurer tells Emirates Business: "I got approached to do the art for this amazing festival, so it was hard to turn down.

"I'm pretty much charging the rate I do in Hollywood, but I can't go into details of how much the whole thing is costing, because that's not up to me. All I can say is that fans will get a nice surprise when they see the festival's new image. It's going to be plenty of fun."





TICKETS ON SALE NOW

Tickets for this year's metal-fuelled Desert Rock Festival cost Dh250 and are on sale now.

"We have always been the lowest ticket seller and so we are keeping our ticket price as it is," says CSM MD Jackie Wartanian.

"We're offering seven to eight artists for Dh250, which is nothing compared to promoters who charge more than Dh400 for one artist."

Tickets are available from Splash, Virgin Megastores or CSM's office. Call 04 339 0550 for more information.
Follow Emirates 24|7 on Google News.