Art imitates life as Sundance directors track the recession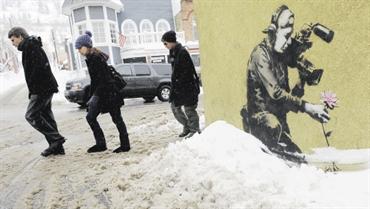 The financial crisis, the business world and space tourism are just some of the ideas that have captured filmmakers at this year's Sundance Film?Festival.

The event, which runs until January 31, is the world's premier festival of independent film.?This year's edition sees more than 100 movies showcased as Hollywood descends on the mountain town of Park City in Utah for the annual extravaganza.

One of a slew of documentaries chronicling unrest in Asia, where films about Afghanistan feature heavily, was Bhutto, which premiered last week. Jessica Hernandez and Johnny O'Hara's film depicted the turbulent life and times of the former Pakistani leader, murdered in December 2007.

I'm Pat Tillman looks at the life of the former Arizona Cardinals American football player who gave up his sports career to join the US Army after the September 11, 2001, attacks. Tillman died in a friendly fire incident in Afghanistan in 2004 and Lev's film follows the slain soldier's family as they seek out the truth surrounding their son's death.

Other documentary highlights include Restrepo, award-winning journalist Sebastian Junger's account of a year embedded with a platoon of US soldiers defending one of Afghanistan's strategically important valleys.

Meanwhile, the corporate world and the financial crisis are among a series of films being screened. Casino Jack and the United States of Money examines the roller-coaster career of Jack Abramoff, a high-powered Washington lobbyist now in prison for defrauding American Indian tribes, bribing public officials and evading taxes. Money plays a crucial role in at least seven other documentaries including To Catch a Dollar, The Shock Doctrine, Gasland, Lucky, Space Tourists andWaiting for Superman.

"With what's happening in the economy, money is obviously on everyone's mind," said Sundance Director John Cooper. "Though you have to remember that most of these films were started before the financial crisis began."

John Wells, producer of hit television series ER, makes his directorial debut with the corporate layoff drama The Company Men. Its three main characters, played by Ben Affleck, Tommy Lee Jones and Chris Cooper are laid off from a conglomerate and lose their comfortable boardrooms-and-golf existence. The film follows all three as they are forced to re-evaluate their careers and lives, stripped of jobs that provided not only a paycheck but confidence and self worth.

Wells chose to focus on head-office managers and executives, a decision he acknowledged was a risk because it might make the characters less identifiable to service workers or other members of the labour pool who recently lost jobs.

And Logorama, an satirical Oscar-shortlisted animated short screened this week could be a film copyright-clearance lawyer's absolute worst nightmare.

French filmmakers Francois Alaux, Herve de Crecy and Ludovic Houplain spent four years creating a violent, profane, action-packed caper set in a world comprised entirely of well-known corporate logos and iconic mascots in a 17-minute ride that satirises the global corporate culture and our scary familiarity with the tools of pervasive marketing. An evil Ronald McDonald goes on a shooting spree on a street overflowing with 7-Elevens and U-Hauls and Wal-Marts and Pizza Huts. Swiss director Christian Frei's latest film, the documentary Space Tourists, explores the phenomenon of wealthy individuals who have capitalised on the fading glory of the former Soviet Union's space programme to fulfil the journey of a lifetime.

Frei says he was drawn to the subject after reading a newspaper article about a Japanese billionaire willing to pay $20 million (Dh73.46m) to journey into space wearing a spacesuit based on his favourite cartoon character.

His film also shines a light on the Kazakh scrap merchants who make a living scouring the vast expanse of the steppes around the Baikonur Cosmodrome, the former hub of the Soviet space programme, as they search for debris from rocket launches and then sell these to China.

Other movies with notable casts include The Killer Inside Me (Kate Hudson, Casey Affleck, Jessica Alba), about a small- town Texas sheriff suspected of murder; Get Low (Robert Duvall, Bill Murray, Sissy Spacek), the story of a Tennessee hermit who plans his own funeral party; and Please Give (Amanda Peet, Oliver Platt, Catherine Keener), about a couple who clash with their elderly neighbour and her two granddaughters.

Actors Philip Seymour Hoffman and Mark Ruffalo will screen their directing debuts at Sundance. Hoffman's Jack Goes Boating is a quirky romantic comedy starring Hoffman and Amy Ryan. Ruffalo's Sympathy for Delicious is about a paralysed deejay who gets involved in faith healing.
Keep up with the latest business news from the region with the Emirates Business 24|7 daily newsletter. To subscribe to the newsletter, please click here.
Follow Emirates 24|7 on Google News.