Art world sees Dubai dominate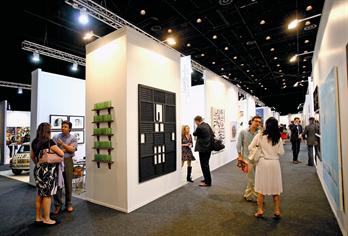 Organisers of Art Dubai 2009 are optimistic about its continued success despite the worsening global economic crisis and its effect on the international art market.

John Martin, Director and Co-founder of the annual international art fair, has predicted an increase in sales, with this year's edition expected to fetch more than the estimated $20 million (Dh73.4m) the show made in sales last year.

"If we match the $20m of last year, I would be very happy," Martin told Emirates Business. "However, I won't be surprised if the galleries actually make more."

Martin said the economic downturn has provided the perfect climate for Dubai to take advantage of its position as a cultural hub for the region – and increasingly, the world. "International galleries are looking at events such as Art Dubai and its influence across a wide region to provide important opportunities, both to discover new artists and to meet new collectors," he said.

"Globally, we are witnessing a highly significant cultural shift; it is an important moment for Dubai to develop its role as an art market centre and challenge the market dominance of New York and London."

Martin's enthusiasm is perhaps related to a new Art Dubai survey that polled the 62 galleries exhibiting at this year's event, set to take place between March 18 and 21 at Madinat Jumeirah.

In the survey, galleries unanimously expressed the need to reach new collectors, and an overwhelming majority strongly agreed that Dubai has the potential to be the most important contemporary arts hub in the Middle East.

More than two-thirds of galleries questioned identified the region as a significant player in the international contemporary art market, while 88 per cent felt that participating in Art Dubai 2009 would increase business opportunities in the Middle East.

"A year of research into art fairs in the region led us to conclude that, of all of them, Art Dubai had most potential for us to achieve two aims – to promote our artists in the Middle East and to strengthen existing ties with Middle Eastern artists and galleries, while developing new ones," said Emeliyan Zakharov, of Triumph Gallery, Russia.

Cassie Rosenthal, co-owner of top New York-based gallery Goff + Rosenthal, said: "We are coming to Art Dubai for the first time this year in the hope of introducing our artists to a new hub of activity in the ever-expanding global art world. We have a gallery in Berlin, in addition to our New York location.

"The relative proximity of Dubai to Berlin allows us to be closer to this Middle Eastern hub of activity. Previously, our gallery has had little exposure to the arts scene of the Middle East, which we would love to change in the future."

The survey also revealed that more than 80 per cent of respondents identified contribution to the Middle Eastern art market as a key factor in exhibiting at the show, while 75 per cent said entering the Middle Eastern market is a primary reason for exhibiting at Art Dubai. And more than a third included finding new talent as a key reason to come to the UAE for the fair.

If Art Dubai 2009 fares as well as predicted come March, it certainly will have defied what is happening in the rest of the international art market at present.

At a time when many collectors are keen to liquidate art assets, many art markets have seen a slump in sales and profits in comparison to the same time last year.

For example, a recent survey of art museums across the United States found that most institutions have lost at least 20 per cent of the value of their endowments and nearly all directors had begun trimming between five per cent and 20 per cent of their 2009 budgets and were preparing for deeper cuts in 2010. European galleries and museums are also facing similar fates.

But it is not only the Western markets that are suffering. Art magazine recently reported that galleries in India – which is considered one of the art and cultural centres of Asia – have been quick to exercise damage limitation. Bodhi Art, one of India's biggest galleries, was offering 40 per cent reductions to clients, while other galleries were making reductions of at least 20 per cent.

Even some of the galleries initially set to participate in Art Dubai 2009 had to pull out, Martin revealed.

"With the current situation, some galleries want to do more fairs, while others want to cut down. Yes, some did pull out," he said, declining to mention how many or which galleries they were. "However, we received 300 applications, and out of those we only needed around 60, so it's not as if it was hard to fill spots."

Art Dubai 2008 played host to 68 galleries from 30 countries with more than 540 artists. Official reports indicated that 12,000 visitors and 240 art critics and journalists attended the event.

To increase space, Art Dubai 2009 has reduced the number of galleries to 62. They include Dubai's The Third Line, Rossi & Rossi from London and Mumbai's Chemould Prescott Road.
Follow Emirates 24|7 on Google News.