Aussiewood musical extravaganza tomorrow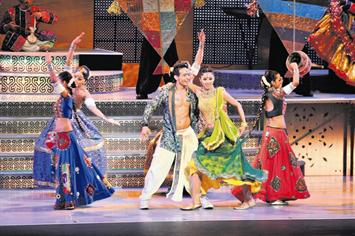 An Australian production hopes to capitalise on the interest in all things Indian in Dubai this weekend. The Merchants of Bollywood, featuring an Indian cast of 40 people, begins a for a three-day run at The Palladium Dubai Media City tomorrow.

The show promises an extravagant mix of musical theatre and touching love story. It tells of Ayesha Merchant, the granddaughter of Shantilal Merchant, a lauded choreographer from the Hindi film industry's golden era. The story centres on Ayesha who was taught Indian classical dance by Shantilal. Enticed by the romance of Bollywood she dreams of making her name in the film world. She abandons home for the film industry but despite fame and fortune the emotional pull of her ailing grandfather draws her home and into the arms of childhood sweetheart Uday.

The story unfolds in high-energy dance routines by a cast of 40 performers with 1,600 costume changes and more than 3,000 pieces of jewellery. The music is by Oscar-winning composer AR Rahman, responsible for the Slumdog Millionaire soundtrack. And the crew say you do not have to be a fan of Bollywood movies to enjoy the show which has international appeal. We caught up with Australian producer Mark Brady and leading lady Carole Furtado ahead of tomorrow's premiere.


Tell us more about The Merchants of Bollywood. Are you excited that it is going to run in the UAE?

Mark Brady: We are very excited about coming to the UAE. It will be our first time in this region and we are expecting a huge turnout of adoring Bollywood fans. The great thing is that it is a show for everyone. A show for the whole family, a show for all ages and all cultures. The show was created and launched in 2005 and since that time has toured more than 20 countries around the world performing more than 800 shows. It is a record for any Indian show and we are very proud of it.

There is a great interest in India globally and Dubai has a huge Indian population. With Dubai being so close to India, the producers feel it is the perfect show for the people of Dubai.

Carole Furtado: The MOB, as we fondly call it, is an experience. The story focuses on conflict between generations, which people around the world can relate to. Bollywood has come to age internationally and everyone wants a glimpse of all the action. The show has songs and dances and everything that makes Bollywood so fascinating and it is showcased in an international format.

It is a classic story of traditional versus modern. How do different generations react to this show?

Brady: It is a show for all generations because the show is about generations, conflict and resolution. Both young and old generations see both sides of the story and the characters toiling with their inherent family issues, but with resolution brings hope and peace. It is a beautiful true family story.

Furtado: The story is based on strong family values. The main thrust is on the westernisation of Indian culture. The old making way for the new... a concept every generation experiences and relates to. It is a show that connects to everyone young or old.

How long did the show take to be set up? How long was the process from writing the script to actually getting the show out there on stage?

Brady: The show was first thought of in 2003 and was launched in 2005. We spent a good two years researching, developing and casting. We wanted to get the formula right so we took our time. The key was authenticity.

It has toured various countries. Which country has been the most fun for you personally?

Brady: We have just finished a tour in France which was wonderful. The French reacted to the show very generously and were wonderful to us. The reviews in Paris were outstanding. France is now one of our most important markets in Europe.

Furtado: I was completely mesmerised by Rome. So much history and beauty all around you.

Do you think this kind of show is appealing more to Western audiences due to the popularity of films such as Slumdog Millionaire?

Brady: I think Slumdog certainly helped bring Western audiences into the world of Bollywood and I think that is a good thing. I expect many more successful film collaborations in the coming years.

Furtado: This show has a great spirit and a universal appeal. People from all cultures, generations and age groups can come and enjoy this show. Yes this show has been designed for foreign audiences. It is a great insight on India, our culture, our traditions, the kind of people we are. It is a great glimpse of India, all through the Bollywood lens. Slumdog has definitely aroused curiosity among people about Bollywood all over the world and made a global impact on the world's perception of India.

What about the global economic crisis last year? Did that have an impact on audience turnout?

Brady: Not at all. In fact, in France we had record turnouts. I think in hard times people want to get out and dream.. they want to forget about their worries and their pain. There is no place better than the theatre to heal and be at peace with ones thoughts.

Furtado: Whenever there is a financial crisis the first to get hit is the entertainment field. Although we did see a decline at the box-office sales, we were still blessed with an average of 75 per cent audience turnout. All I can say is that we have been blessed.

Acting legend Amitabh Bachchan recently said in an interview that he does not like to call it Bollywood, and prefers the term Indian film industry. What is your take on Bollywood?

Brady: I guess the Westerners coined this phrase and since our show is an Indian export, one needs to think commercially. Bollywood is a logo and brand that is now known all over the world. This is a good thing for the Indian film industry, but we do respect always the wise words of Mr Bachchan.

Furtado: I think the most obvious comparison is what irks Mr Bachchan. For me our film industry has worked very hard and made a mark in the world with its unique style and formula. It surely deserves recognition.


- The Merchants of Bollywood is staged at The Palladium, Dubai Media City from January 21 to 23, with matinee and evening performances on various days. Tickets begin from Dh150 and can be purchased from the box-office at the Palladium, at boxofficeme.com or at select Spinney's video outlets.
Keep up with the latest business news from the region with the Emirates Business 24|7 daily newsletter. To subscribe to the newsletter, please click here.
Follow Emirates 24|7 on Google News.