Bhandarkar's glamour world exposé is a Fashion faux pas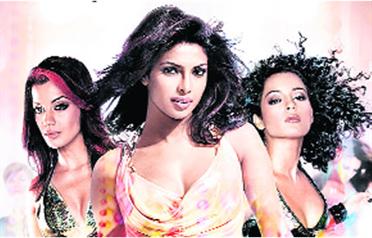 A small-town girl chasing dreams of being a super model moves to fashion capital Mumbai, struggles, makes it big, grapples with success, loses herself and then makes a near-emphatic return.

While most producers would have shunned such a staid plotline, UTV chose to bankroll this Madhur Bhandarkar production.

At the time, their interest in the film was understandable. For too long, Indian masses have been curious about an otherwise guarded fashion industry. Bhandarkar's knack of delivering documentary-style real world accuracy in the trappings of well-packaged slick flicks helped him carve a niche in escapist Bollywood. His decision to make Fashion – a proposed uncompromised look at the underbelly of the industry – left moviegoers hopeful.

He roped in top designers, had India's best models (Jesse Randhawa and company) walk his ramps, researched his project to great detail but eventually delivered a dud – much like the fate of most Indian fashion collections: Great hype, minimal perspective.

The sub plots were all there, dished out in real time, as if only for Bhandarkar's film. Carol Gracias' unfortunate wardrobe malfunction. Former top model Geetanjali Nagpal being rescued from the streets of drug addiction. Designers claiming plagiarism. It was all happening – and Bhandarkar lapped it up and dumped it in his script – and it shows!

An inside look at India's fashion industry would mean a comment on child labour and exploitation of tribal tailors by designers.

Models slumming it in tacky Andheri apartments, living in a world of no privacy, abused by choreographers, transported to shoddy ramps like cattle.

Instead, Bhandarkar dishes out a glamorous look at the struggle. His models are always intoxicated. A few passing comments are made at the more pressing issues, but for the most part its fashion lights, lipstick jungle, blood-curdling English dialogue and fashion patch work.

While Priyanka Chopra, pictured left, leads the film with her best work yet (even bagging the Best Actress trophy at the recent Star Screen Awards for her portrayal as Meghna Mathur), it is Kangana Ranaut's role that perplexes.

Bhandarkar thought it wise to subject only Ranaut's character of Shonali Gujral to every negativity.

The arrogant, brash supermodel, the perpetually intoxicated supermodel, the substance abusing supermodel, the wardrobe-malfunctioning supermodel, the in-and-out-of-rehab supermodel, the rescued supermodel, the beyond-redemption supermodel – they all combine to form different stages of Ranaut's character.

The poor thing is understandably the most distraught soul in this painfully long film.

The film itself takes half an hour to kick off, holds your interest for the next half hour, and then begs for your mercy until the titles roll.

DVD extras include the making of the movie.
Follow Emirates 24|7 on Google News.