Blades raises the steaks for Dubai's restaurants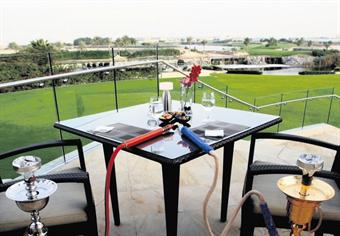 We were there for the steaks and at Blades, at the Four Seasons Golf Club, they were no disappointment.

Probably because steak means different things to different people, and the final product is affected by everything from whether the cattle were massaged or not to how many times the chef turned the meat. The end result, therefore, is one of uncertain quality and texture. Of course, you can hedge a little by choosing wagyu or Angus, for instance, but all too often, medium rare can end up being done medium well.

And when a chef says he's going to do something special, the uncertainty increases – except you know that the end result will be worth the gamble in nine cases out of ten. But restaurant Chef Emiliano Bernasconi, an Italian stallion who regaled us with tales of his adventures in Dubai when he wasn't cracking his whip in the kitchen, certainly knows his way around a piece of meat.

The meat in question was Black Angus that was so unbelievably tender, it was apparent there had been a magician at work. Turns out Emiliano is a master of the slow hand – his steaks had been cooked sous vide, or at about 45 degrees for a mind-boggling 48 hours.

The traditional French method, which cooks the meat in vacuum-sealed packs, is rarely used in city steakhouses partly because of the erroneous belief that low temperatures equal an increase in bacteria, but also because of the tremendous effort involved in creating a dish that may not actually be ordered. But that, like so much else, really is a marketing problem.

What makes it to your plate, then, is a succulent cut that is evenly cooked – and coloured – all the way through. It offers no resistance at all to the knife and is a smooth riff of full-flavoured delight.

There are plenty of sides to choose from: potatoes several ways, sautéed vegetables, asparagus and creamed spinach. Our asparagus was just right, tender and lightly done.

And that was after we'd pretty much demolished a selection of starters that included Thai-style lobster spring rolls (a nice luxury upgrade from the usual) and spicy Thai prawn cakes with a delicious sweet plum sauce.

But what elevates the entire experience is the wide range of shisha on offer. Seated outdoors overlooking the ninth green, a puff of the Four Seasons cocktail blend, even if you're only a casual smoker, beautifully completes the evening out.
Follow Emirates 24|7 on Google News.