Blunt defies expectations, while Legend does his thing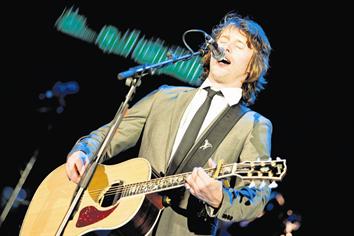 This was the week of all things jazz – and more, judging by the variety of music genres – thanks to the annual Skywards Dubai International Jazz Festival, which took place at Dubai Media City's Amphitheatre.

Emirates Business went to the event's first and second nights to check out headliners James Blunt and John Legend in action.



—James Blunt, February 25: I admit it. When James "You're Beautiful" Blunt first catapulted into the limelight following the release of his debut, Back to Bedlam, in 2005, I was hooked.

The same, however, cannot be said for his 2007 follow-up, All the Lost Souls, and I kind of lost interest. So it was going to be interesting to see Blunt live, and find out whether his albums were worth revisiting for his Dubai show.

The verdict? Love him or hate him, there's no denying that the British musician and his band can put on one impressive spectacle. Despite jetting from city to city for the past 15 months, Blunt showed no signs of fatigue and really gave fans more than their money's worth in this credit crunch era.

Taking to the stage kitted out in a suit, Blunt greeted his audience with "marhaba Dubai" before bursting into 90 minutes worth of song.

All the favourites were included in his set-list, such as Wisemen, 1973, and of course, You're Beautiful and Goodbye My Lover.

Forever interacting with his fans, and showing off his broken Arabic skills, Blunt also got his fans to sing along to live favourite Cuz I Love You, before deciding to jump off stage and dive into the crowd, leaving the festival's security staff, hilariously, not knowing what to do.

What's even greater is that Blunt didn't stick to the typical popstar mode of staying in the VIP area surrounded by bouncers; the guy ran the whole length of the concert venue greeting fans on his way and back. You've got to give it to him – that takes some guts.



—John Legend, February 26: Fresh from his stint at the Oscars, John Legend performed to thousands on Thursday night.

The talented American star gave his Dubai fans a taste of songs from all three of his albums, including Used to Love U, Ordinary People, and Everybody Knows. Good show, but not quite as energetic as Blunt's.
Follow Emirates 24|7 on Google News.