Brad hits all the right buttons in a stellar film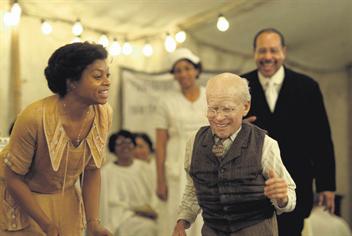 The fantasy element in F Scott Fitzgerald's 1922 short story, The Curious Case of Benjamin Button, in which a man ages backwards, does not begin to suggest the urgent drama and romantic fatalism that director David Fincher and writers Eric Roth and Robin Swicord have so strikingly brought to the movie version.

Fitzgerald's story is little more than a plot gimmick. Yet, the film transforms this gimmick into an epic tale that contemplates the wonders of life and love. Superbly made and winningly acted by Brad Pitt in his most impressive outing to date, the audience for this Paramount/Warner Bros co-production is large.

Although hard to pigeonhole, the picture comes closest to Latin American magic realism, which juxtaposes the fantastic with the realistic. Even the framework for the story underscores that there are forces within nature that man cannot control. Daisy (Cate Blanchett), a dying woman in a New Orleans hospital, gives her daughter (Julia Ormond) a memoir to read as Hurricane Katrina bears down on the city. The memoirist is Benjamin (Pitt), born on the day of victory in Europe in 1918.

He was, he writes, "born under unusual circumstances." He's a baby that looks like a failing man in his eighties, with poor eyesight, brittle bones and wrinkled flesh. His mother dies giving birth and his father (Jason Flemyng) abandons him at an old-age home. A maternal woman, Queenie (Taraji P Henson), who runs the place, takes him in and raises him in the one environment where he can pass unnoticed.

He truly fits in among people old and forgotten. As a somewhat younger old man, he meets Daisy as a small girl (Elle Fanning) visiting a relative. Their friendship will last both of their lifetimes – although ones moving in opposite directions – and will evolve into passionate love.

Much keeps them apart as Daisy pursues a career in ballet while Benjamin is a man who will never feel comfortable in his own skin. The job on a tug boat with its hard-drinking pilot (Jared Harris) takes him to Russia and an affair with a British spy's wife (Tilda Swinton) and then into action in World War II.

After the war, Daisy's career takes off. Yet she can't make up her mind about involvement with a man growing younger each year. But when commitment comes, contentment ensues. Benjamin's story is preceded by Daisy's recollection of a watch maker (Elias Koteas), who, having lost his beloved son in World War I, made a clock for the New Orleans train station that ran backwards so that time might move the same way and his boy would come back to him.

Pitt's Benjamin cuts a poignant figure, a person lost within his own life but with a comic spirit that allows him to accept his backward fate. Blanchett illuminates the screen with an intelligence that makes Benjamin's pursuit of Daisy as much a quest for life as for love.

Fincher's direction is sure handed over the entire 166 minutes, which never feels long or pretentious.
Follow Emirates 24|7 on Google News.