Bullock dazzles with award-worthy role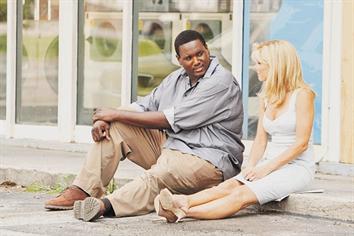 Knowing a golden character opportunity when she sees one, Sandra Bullock takes the proverbial ball and runs with Leigh Anne Tuohy, the honey blond spitfire of a well-to-do Southern wife and mother who takes in a homeless black teenager in The Blind Side.

And the role has worked for her well – Bullock is now up for the Best Actress award at this year's Academy Awards.

She has an irrepressible hoot in writer-director John Lee Hancock's otherwise thoroughly conventional take on Michael Lewis' fact-based book The Blind Side: Evolution of a Game.

Sticking safely to proven inspirational sports-movie/fish-out-of-water formulas while holding the inherent sociological issues to the sidelines, the dramedy doesn't skimp on the crowd-pleasing stuff, but given the setup, there also was room for more thought-provoking substance.

Bullock's feisty performance should ensure solid midrange numbers, driven by a decidedly larger female demographic than what is usually drawn to gridiron fare.

Hancock, who added a thoughtful page to the sports-movie playbook with 2002's The Rookie, goes for a decidedly broader attack here in his depiction of Tennessee's Tuohy family and their head-turning houseguest.

When we meet up with Michael Oher (nicely played by Quinton Aaron), he's a long way from becoming an All-American football star. In fact, the outsized, introverted teenager never has even played the game before when he crosses paths with Bullock's Tuohy one wet winter night as she and her family pass her son's schoolmate on the street, braving the elements in just a T-shirt and shorts.

They take him in for the night and ultimately adopt the gentle giant, raising the meticulously plucked eyebrows of Tuohy's affluent, decidedly non-diverse circle of friends, while grooming Oher to become an indispensable left tackle.

Along the way, it would have been nicer if Oher had been presented in the movie as something other than essentially a large prop.

Not until the end of the film do we ever get a chance to really see what's going on in Oher's head – how he feels about being the chosen one plucked from the poverty-stricken projects of Memphis and thrown into this protected, nonliberal-leaning environment of privilege.

Missed opportunities and surface gestures aside, Hancock draws affable, energetic performances from all concerned, including Tim McGraw as Bullock's successful fast-food entrepreneur husband, Sean and Kathy Bates as Big Mike's tutor, Miss Sue.

But it's immediately clear who wears the designer jeans in the Tuohy household, and Bullock, who looks more than a smidgen like Kathie Lee Gifford here, goes the distance as an unstoppable, well-coiffed, force of determination.

Production values are nicely appointed, especially Alar Kivilo's crisp cinematography and costume designer Daniel Orlandi's pricey ensembles, which fit Bullock's Tuohy to a T.
Keep up with the latest business news from the region with the Emirates Business 24|7 daily newsletter. To subscribe to the newsletter, please click here.
Follow Emirates 24|7 on Google News.