Burj event designer promises a show unlike any other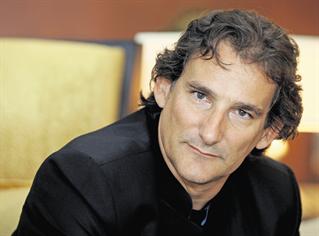 Tonight the eyes of the world will be on the UAE as Burj Dubai is officially opened.

Residents have been watching the world's tallest tower being constructed for the past four years – a process that comes to a climax with an extravagant opening ceremony.

It had been kept a closely guarded secret until yesterday that the show will feature fireworks, a film, light beams, choreographed water displays and sound. But the man behind the event is no stranger to spectacles.

Pierre Marcout has masterminded sound, light and fireworks shows to mark the opening of events such as Dubai Shopping Festival and Dubai Autodrome as well as producing Jumana, the sound and light show documenting Dubai's heritage at Al Sahra Desert resort.

But Burj Dubai is in line with the biggest show that the CEO and Artistic Director of Prisme International has devised in his more than 20-year career, which started with overseeing the lighting of large-scale buildings.

"I've been dreaming about doing this event for two years when I saw the tower but was only given the contract two months ago," says Marcout, 52, who has lived in the emirate since 1997.

"I did a show for the G7 Summit in Lyon, which was very big, stretching for 2km, but this is different because it focuses on just one tower."

He will, nevertheless, appeal to the audience's emotions by visualising their view. "It's my target for any project. I would not try to imagine that people could fly to a show but emotion is an important part of everything I do." Marcout moved to Dubai in 1997 after realising the future of huge events lay in the Middle East. "I started the company in France but moved it here because Europe is an old nation now and it's difficult to have big events there. The big advantage of this city is that it's very open so you can bring expertise and realise your dreams," he says.

Not surprisingly, Marcout has been almost living in Downtown Burj Dubai, rather than at home in The Meadows over the past couple of weeks, overseeing the 300 staff he has tasked with turning his vision into reality.

"Doing an event is not just about me; it's about all the staff. We have had a lot of young people come through the company and it's great to see because Dubai lacks home-grown artistic talent.

"I want there to be an artistic and acting school in Dubai. It's a good thing to have and the city is ready."

After tonight's event, Marcout will take a week off before turning his attention to his next projects; permanent shows in Sharm El Sheikh, Egypt, and Senise, Italy, but his ideal venture is much closer to home.

"My dream is to inaugurate the Sheikh Zayed Grand Mosque in Abu Dhabi. It's beautiful. I did the Mosque Hassan II in Casablanca and I think we can do something here that will be traditional yet align this building," he says.

But back to the more pressing issue of tonight. "People should expect the unexpected. We want people to see the show through the eyes of a child but it will be unlike anything Dubai has seen before."
Keep up with the latest business news from the region with the Emirates Business 24|7 daily newsletter. To subscribe to the newsletter, please click here.
Follow Emirates 24|7 on Google News.