Burns Night a big event for Scots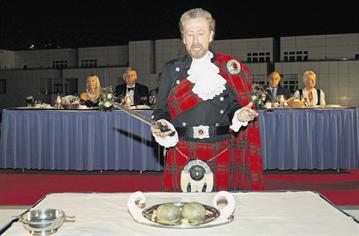 With men dressed in skirts and wailing bagpipes for music, Burns Night may not be to the taste of everyone. But for Scottish nationals living in the UAE, there's nothing quite as comforting as that very sight – unless there's some sheep offal being served up for dinner.

Tomorrow night is when Scotland celebrates the birth anniversary of its national bard, Robert Burns, who is known to non-Scots principally for his poem Auld Lang Syne, traditionally sung at the end of the year. For Scots everywhere, the day is a reason to get together in memory of his life and work, but for the country's many expatriates, the day is also a celebration of national identity and culture.

Several Burns Nights or Suppers have been organised across the country this year, with three or four in Dubai and at least one in the UAE capital Abu Dhabi.

"Rabbie Burns was our great poet, songwriter and ladies' man," laughs Suzanne McDonald, 37, a committee member of the Dubai Caledonian Society. "So for Scottish people, it's a celebration of all things Scottish. But what it does is also allow other nationalities and cultures to experience Scottish tradition," she said, adding that English, Australian and Ugandan nationals attended the Society's Burns Supper over the weekend.

Many Scots also organise similar events at their homes. Publishing professional Fiona McAndrew tells Emirates Business she is looking forward to having friends come around for an informal Burns Supper. "It's a great excuse to get together with friends and family – something we don't do enough in Dubai," she says.

But whether formal or informal, after 250 years, of course, the Scots have had a tremendous amount of chances to refine these events to a fine art and the prescribed order of things dictates that bagpipers pipe in the haggis, immortalised by Burns in his famous Address To The Haggis, which declares it the "great chieftain o' the puddin' race".

The poem is then recited and the haggis is then toasted with Scottish beverages, and served with "neeps and tatties" or more prosaically, potatoes and turnips. This is then followed by a toast to the lassies, or ladies and a reply. And over the course of the evening, more of Burns' works are often read out.

"I would certainly attend to listen to the poetry in lowland Scots and to enjoy the Scottish food and beverages," says Scotsman William Vize, a lecturer at a UAE university. He says events such as this tap into expat nostalgia, pointing out that, like with all nationalities, "People tend to be more Scottish when away from Scotland.

"For instance, men will dress up in kilts here in the UAE when they wouldn't be caught dead in them back home," he adds. Vize himself has lived away from Scotland for more than 30 years but says he still feels very Scottish. But he will not be attending a Burns Night this year – primarily because he lives in the Northern Emirates. "If somebody was having one in Ajman, I would definitely go, but I couldn't go all the way to Dubai, for one."
Keep up with the latest business news from the region with the Emirates Business 24|7 daily newsletter. To subscribe to the newsletter, please click here.
Follow Emirates 24|7 on Google News.