Celebrities pledge cash, seek help for Haiti quake victims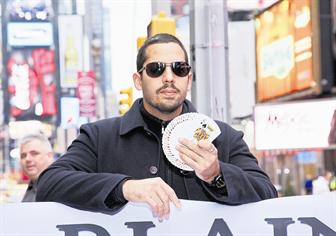 Haiti's devastating earthquake has moved Hollywood and pop music stars to lead a rally for disaster relief donations and open their own wallets, led by Haitian hip-hop artist Wyclef Jean.

Brad Pitt and Angelina Jolie were the first to reach out to Haiti by donating $1 million (Dh3.67m) from their foundation to Doctors Without Borders, which has been tending to victims of the quake that demolished buildings in Haiti's capital, Port-au-Prince on Tuesday. Tens of thousands are feared to have died.

Doctors Without Borders said on Friday that actress Sandra Bullock had also donated $1m. The Pan American Health Organisation estimated the death toll from the earthquake could be 50,000 to 100,000, higher than previous figures from the Haitian Red Cross.

Supermodel Gisele Bundchen donated $1.5m to the Red Cross Haitian relief fund, according to People magazine. Bundchen was quoted as saying she was "so moved, she knew what she had to do to help."

Pop icon Madonna donated $250,000 through Partners in Health and said in a statement she was praying for the Haitian people. "I can't imagine the terrible pain and suffering they are experiencing," she said. "I urge all my friends and fans around the world to join me collectively to match my contribution or give in any way you can."

Jean launched a texting campaign, calling on fans to donate $5 each to his Yele Haiti Earthquake Fund. He raised more than $1.9m by Friday and is in Haiti "giving aid and assessing the situation," according to his website, www.yele.org.

Actor George Clooney will host a commercial-free telethon called Hope for Haiti presented by MTV next week to raise funds for the victims, the network said.

The event will be held in Los Angeles and New York and be broadcast on ABC, CBS, NBC, Fox, CNN, HBO and all MTV Network channels next Friday. Clooney will be joined by Jean and other pop music and movie stars. Latina pop singer Shakira asked her fans for donations to help rebuild Haiti ,to be channelled through Unicef and Jean's foundation.

In New York's Times Square, magician David Blaine began performing 72 hours of tricks and magic for pedestrians and said: "We have so much here and that country has nothing. Just the thought of it is horrific."

Actress Alyssa Milano, a goodwill ambassador for Unicef, used her blog on The Huffington Post on Thursday to challenge US corporations to match her donation. She said the funds would go to buy medical supplies, tarpaulins, food and water kits for Haiti. "I cried and then I did the only thing I could, I wrote a cheque to the US Fund for Unicef for $50,000," she wrote.

Coldplay musician Chris Martin called for donations through Oxfam, whose global ambassador, actress Scarlett Johansson, also appealed for contributions for Haiti. Oprah Winfrey asked viewers of her popular show to donate to the Red Cross.

Actor Ben Stiller, who has been raising money for a school in Ceverine in Haiti through Save the Children, also made an appeal on CNN's Larry King Live for $10 donations charged to phone bills by texting "Haiti" to 90999. First Lady Michelle Obama made a public appeal for the texting campaign, which had raised $5.9m for the Red Cross by late Thursday.

Lending a sporting hand

Roger Federer and other top players will play exhibition matches at Melbourne Park today to raise money for victims of the Haiti earthquake.

"We had the idea that we could do something to help the needy after the tragic earthquake – so we're going to play doubles or mixed doubles also with the top women's players, try to fill the stadium," Federer said.

Organisers said the "Hit for Haiti" charity event would also feature Serbia's Novak Djokovic, Americans Andy Roddick and Serena Williams and the Belgian Kim Clijsters among others.

The event follows news that the United States' National Football League and National Basketball Association will participate in relief efforts for Haiti, pledging $2.5 million (Dh9.17m) and $1m respectively.

Cycling legend Lance Armstrong's LiveStrong Foundation has pledged $250,000 to help Haiti's recovery, according to its website. And the world's number one golfer, Tiger Woods, who has been in hiding since admitting last month he had cheated on his wife, has also pledged to help, via his foundation, with relief efforts that provide resources to children.

"We're currently researching the most effective plan to aid in the relief effort," Greg McLaughlin, President of the Tiger Woods Foundation, said.

"Our plan is to be part of the relief effort to help rebuild Haiti by supporting organisations that provide critical resources to young people, which is consistent with our mission and previous efforts regarding Hurricane Rita, Hurricane Katrina and the 2004 tsunami."
Keep up with the latest business news from the region with the Emirates Business 24|7 daily newsletter. To subscribe to the newsletter, please click here.
Follow Emirates 24|7 on Google News.