Celebrity styles in a trunk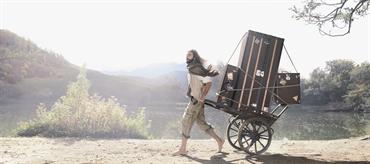 After dressing the manes of some of the world's most glamourous stars in a career already spread over 20 years, French hairstylist and "couture icon" John Nollet is embarking on a very different journey – he's going on a world tour. With an 11-city roster that includes Milan, Moscow, Istanbul, Buenos Aires, Shanghai and Tokyo, the hair stylist to the stars says he is going to make Dubai his first port of call.

"It's going to be my first time in Dubai and obviously I am very excited. I've heard so many things about the architecture and all the interesting things," says the stylist who has famously created geometry-inspired hair designs in the past.

"This is fulfilling one of my desires to meet different people from around the world and learn about their lifestyles."

To help him take his "hair room service" concept across the globe, Nollet has partnered with French luxury leather goods company Louis Vuitton and Park Hyatt, a subsidiary of Global Hyatt Corporation. While Louis Vuitton has designed an over-sized bespoke trunk for the tour, Park Hyatt will host the events, which will only be offered to limited local clientele and the two company's most loyal customers.

At the event, to be held in Dubai from January 21 to 27, Nollet will provide a private hair diagnosis followed by an option of a haircut or colour treatment and a presentation of his unique collection of haute couture hair accessories specially designed for the tour.

Hair Room Service, a concept developed by the stylist 10 years ago, comes with a custom-made trunk, which he says contains his universe – basically all you'd need to create a glamourous hairstyle.

"When I began working with actresses I always met them in their suites, in their private bathrooms," he says. "It's for the travelling woman, who can just call the concierge in a hotel and ask to have a hairdresser in her room. It's a very private atmosphere and she is much more comfortable there, unlike a salon where she has to sometimes wait and be with other people."

The service, currently available at a hotel in Courchevel in the French Alps and in Paris, consists of a two and half hours' hair pamper session.

"The accompanying trunk will have everything you need… music, magazines… to create the best design. It's my vision of luxury in a suitcase," explains the designer who has worked with stars including Elizabeth Hurley, Vanessa Paradis, Diane Kruger, Kylie Minogue, Uma Thurman and Johnny Depp.

At €700 (Dh3,476) per session, Nollet says he will be giving his clients in Dubai "the best of their hair".

"All women around the world are the same – they want the best for their hair," he says. "My philosophy is to give them the best woman by woman. I want to be alone with her, to take my time, understand her life and her attitude. My client is a successful woman, she knows her style and she loves haute couture," he adds.

Born in France in 1970, Nollet says his passion for hair styling began early in life. His first big break came when he was asked to create hairstyles for dance performances at an opera in southern France. He subsequently moved into film, working on internationally successful productions such as Dancer in the Dark, a 2000 musical drama starring singer-songwriter Bjork and 2001's Le fabuleux destin d'Amélie Poulain, popularly known as Amelie.

Nollet has also delved into film and photography, saying his exposure to various mediums gives him constant inspirations.

"When you have to work with a director, a costume designer and all the other people involved in a major production, it makes you ask many questions about your art and helps you attain an entirely different vision."

The stylist also reveals that he is working on a project to introduce his own range of exclusive hair products and that he is not really fazed by the current rumblings of the financial world.

"My industry is very different and I am not really a part of it. I am a very small house and I work alone and travel around the world with my suitcase. So it doesn't make much of a difference to me," he says.

According to Habia, an industry body for hair and beauty in the UK, the British spent £5.2bn (Dh29bn) in hair salons in 2007. Because the sector is dominated by micro-businesses with many employing five people or less, a definite industry size is hard to come by. Still, some experts in the UK, home to a majority of celebrity stylists, have defined the hairdressing industry as recession-proof, what with many salon chains still expanding. High profile and VIP hairdressers, they say, are still raking in the moolah, with some charging as much as £8,000 for the perfect haircut.

During his brief-stopover in the emirate, Nollet says he is also open to meeting potential partners. "It will be nice to find nice collaborators, who have the same opinion as me and share the same philosophy," he says. "I have the dream. I'm always open to ideas."

-To book your appointment with John Nollet, call Park Hyatt at 04 6021234


Salon style makers

1 John Frieda: This English celebrity hairdresser built a successful hair salon and product business which he sold off in 2002 for $450m.

2 Trevor Sorbie: Started in 1964 and launched his own products in 1986. Latest accounts show net profits of £2.1m

3 Paul Mitchell: This American stylist launched the hugely successful Paul Mitchell Systems in 1980.

4 Charles Worthington: In 2004 he sold his haircare business for £25m but continues to run exclusive hair salons in the UK.

5 Anthony Mascolo: An established hairdresser and photographer, he is also the creative director of TIGI haircare, used in Toni & Guy salons.
Follow Emirates 24|7 on Google News.