Champion for the underdog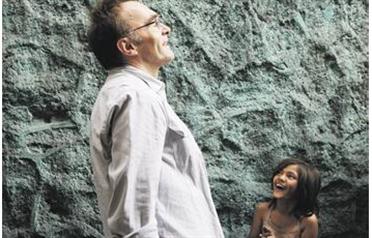 "It would be so typical of this movie if we did win an Oscar," says Danny Boyle about the buzz surrounding Slumdog Millionaire (currently playing in the UAE).

The fact that it has won four Golden Globes and five Critics Choice Awards can only work in its favour.

"Two months before its release, we were dead and buried. Warner wasn't going to distribute it because they closed Warner Independent. We didn't have a North American distributor. And suddenly you turn around and there is all this kind of attention. Talk about rags to riches; it was unbelievable," says director Boyle.

The rags-to-riches tenet lies at the nub of Slumdog's success. Premiering at the Telluride and Toronto (where it won the People's Choice Award) film festivals before closing the Dubai International Film Festival, the drama has been quietly wowing audiences and critics with its simple, irresistible charm.

Tough and sweet, funny and heartbreaking, Slumdog represents Boyle's best work since Trainspotting – a return to the briskness, coherence and heightened feel of his 1996 classic – and is perhaps the most viable candidate to fill the 'little' film slot previously occupied by Little Miss Sunshine and Juno: The underdog that steals everyone's heart and the Best Original Screenplay award from the big guns.

Based on the novel Q&A by Vikas Swarup, Slumdog, the story centres on Jamal Malik (Dev Patel from Skins), an 18-year-old orphan raised in the slums of Mumbai, who is just one question away from winning the jackpot on the Indian version of Who Wants To Be A Millionaire?. Pulled from the television studio by the fuzz under suspicion of cheating, Jamal's explanation of how he knows all the answers forms the body of the movie.

To say more is to spoil its pleasures, but, like all best tales, there is a girl (Freida Pinto) at the centre of it.

"They sent it to me and I wasn't interested," admits Boyle on first hearing about the movie. "I honestly read it just out of respect to (screen writer) Simon Beaufoy, as he's a really good writer. I was lost after about 15 pages, I was genuinely lost. That's the best way that decisions get made. You know after 10 pages whether you're gonna do it or not."

Shooting guerrilla-style on the streets of Mumbai – the film vividly captures the energy and harshness of the locale in bravura filmmaking strokes – perhaps the biggest challenge Boyle faced was overcoming his apathy to Who Wants To Be A Millionaire?

Watching a taping of the Indian version hosted by Bollywood star Shah Rukh Khan, Boyle discovered the prize money is way in excess of anything offered by the American and British versions – "It's the equivalent of winning two to five million quid" – and that in itself throws up a whole new dynamic to the show.

"The answers in India are really difficult because a lot of people fake it on the show," reveals Boyle. "They've had evidence of university professors pretending to be rickshaw drivers. They are a very educated nation but have no cash. So people go on the show and pretend to be poor. The makers twigged on to this quickly, so after the first couple of questions it jumps to nuclear physics straight away. They're tough questions."

Creating his own Bollywood star presenter (played by Anil Kapoor), Boyle knew he had to create "a scenario to top that star and show", and the Millionaire aspect of the film proffers just a fraction of the film's joys.

Part gangster flick, love story, touristy travelogue, Bollywood melodrama, Capraesque fairy tale and Dickensian street yarn, Slumdog feels like tons of mini-movies mixed together – all of them brilliant. Boyle deftly juggles genres and moods into a satisfying whole, often flitting between timeframes in audacious ways.

"The film does use time more freely than the script did originally," explains Boyle. "It allows you to go back for a shot and come forward again. Once you've established it as a technique and if it's working and people are enjoying it, they'll let you go back for anything, even if its just one or two shots. It's very free. We never used those white frames that you get with flashbacks."

Astonishingly, Slumdog represents the first real Oscar buzz of Boyle's career. Trainspotting earned its writer, John Hodge, a nomination – "He didn't get it," remembers Boyle. "It was daylight robbery" – yet Boyle prefers to stay outside the awards spotlight.
Although, all that changed with Slumdog.

Recalling his first ever awards experience ( the Empire Awards ceremony) where he accompanied Hodge, the director says: "It was interesting because you don't realise how much it is made for television.

"Suddenly, there are these long gaps where nothing is happening, and of course you realise they're on a commercial break. At that point, all the celebrities down the front go out to the bar. During the show, you'd be sitting next to a guy who would just go (claps really enthusiastically). You'd think, 'What are you getting so excited about?' Then you realise he's a professional clapper and they've got them dotted all the way around."


Madhur Mittal

Even as Dev Patel and Freida Pinto lap up the accolades for Slumdog Millionaire, the film's true underdog is Madhur Mittal, who's portrayal of the Mumbai gangster Salim is as gritty as they come. Bindu Rai caught up with the star for a chat:

How did you land the part of Jamal's evil brother Salim?

Co-director Loveleen Tandon called me for the audition of the middle-aged Salim. But at the time I'd a biking accident which landed a scar on my face. I think that look cinched the deal.

You were to be the younger Salim?

Danny had an older Salim in mind than the one I play in the film. But after he saw me, he changed his mind.

Did you always want to act?

I was born in Agra and moved to Delhi first because it was the closest glamour city, second to Mumbai. I landed parts in dance shows where I dressed up like Michael Jackson.

What was your salary back then?

I used to earn Rs2,000 (Dh150) per show, and I must have performed in over 1,000 till date.

Didn't you also star in Bollywood?

I was a child star – I played Jackie Shroff's daughter in One Two Ka Four.

Did you say daughter?

The things I did for money.

What's next?

Slumdog 2: Who Wants to be a Billionaire?
Follow Emirates 24|7 on Google News.