Chefs nix molecules in favour of produce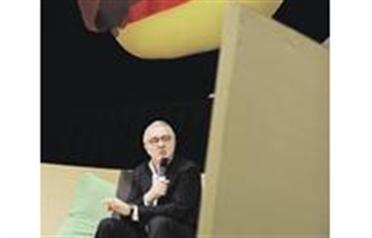 After years of enthusiasm for molecular gastronomy, with its battery of gels and emulsions, many leading chefs are turning back to focus on ingredients and where they come from.

A number of Michelin-starred chefs at this week's Madrid Fusion, an annual gastronomy fair in the Spanish capital, said they were now looking to take more care in sourcing their ingredients – by getting to know the producers, for example.

Ferran Adrià, the Spanish chef who began the much-talked-about molecular approach to cuisine, recently announced his acclaimed El Bulli restaurant is to close for two years as he looks into new creations.

"For me there are limits to culinary expression. That is to say, you can only go so far in transformation and expressing yourself as a chef," said Michel Troisgros, the owner of the Maison Troisgros restaurant in Roanne, central France.

"In traditional cooking too, there were obsessions, techniques, ways of presenting the food, stupidities, mistakes, excesses, ignorance," he said.

Troisgros believes more care should be taken over ingredients, saying he recently went to meet caviar producers in Granada, southern Spain. "It was the first time I'd ever seen sturgeons being farmed or watched the caviar being taken from the fish," he said, calling the experience 'wonderful'.

"Now when I make endives with caviar, I know where the caviar came from, I know it is organic and I know the endives came from my local producer – I know the people and I know the product," he said.

"We are still only at an early stage, but it is a trend that will establish itself, and not only in high-end gastronomy." The same view came from Alain Ducasse, the head of an international empire with a total of nine Michelin stars for his restaurants in London, Paris and Monaco.

"I stopped using bluefin tuna in my restaurants three months ago. I started making a point of buying fish that are not in danger of extinction a long time ago, and buying them from small producers," he said.

Chefs have a role to play in leading opinion in this field, Ducasse said, and must "realise that if they want to work for a long time, they have to protect the planet".

Ducasse said he agreed to take part in Madrid Fusion this year because "for the first time we are talking about ingredients, producers, sustainable development, the planet – things I have supported for a long time.

A number of chefs showing off their skills at the event were following a similar line. The Italian Igles Corelli stood up for authentic ingredients, making white truffles and organic eggs in filo pastry, while Japanese chef Yoshihiro Narisawa included sawdust from Japanese oak in his dish.

Striking a blow for originality, the Spanish chef Andoni Luis Aduriz bathed his salsify and Jerusalem artichokes in water and lime – the chemical, not the fruit – before cooking them.
Keep up with the latest business news from the region with the Emirates Business 24|7 daily newsletter. To subscribe to the newsletter, please click here.
Follow Emirates 24|7 on Google News.