Clooney is right up on tops in new film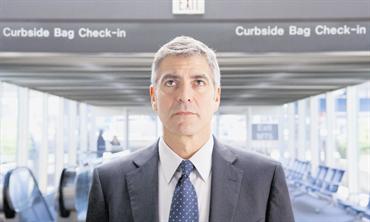 Once in a rare while, a film comes along that sets a premise so contemporaneous, and executes ever so deftly and sensitively, with the right dose of humour, that once the final credits roll, you can't help but, well, just feel good.

Director Jason Reitman's (Thank You for Smoking, Juno) recession-era Up In The Air is the story of smooth-talking executive Ryan Bingham (George Clooney playing the role of his life, apparently), whose job it is to travel around America to tell people they've been let go.

Bingham is a true professional, selling dreams as a "career transitionist", convincing people that losing their jobs could be the best thing that has ever happened to them.

He spends his life on the road, much of it flying, clocks up an enviable number of loyalty points and detaches himself from the emotions and the after-effects of the cataclysmic news he brings his victims.

Outside of his job, Bingham is no different. He moves through life, and through his bare apartment – in the rare event he happens to be home – disengaged. There's an estranged family and a suggested "casual" relationship with a neighbour, before he is on the road again.

But a few incidents throw up a series of interesting events in Bingham's rather straightforward life.

He's invited to his younger sister's wedding, whom he barely knows, and his boss (a brilliantly contemptible Jason Bateman) has just hired a "MySpace-generation" fresh graduate Natalie who thinks she can do Bingham's job over the internet (played here by the lovable Anna Kendrick) to help cut costs. Along the way, Bingham also meets a female version of himself, Alex (the oh-so-classy Vera Farmiga), who is as keen as him to "keep it casual" and whom he meets occasionally, whenever their flights crossed.

As he faces up to these new situations, Bingham, who also delivers motivational speeches on the side – something about fitting your life in a backpack – begins to look at his life from outside of himself and resolves to do something. How he goes about this forms the dramatic height of the film.

It's hard to imagine this film without Clooney. Like his perfect suits and hotel robes, he fits in so perfectly and subtly delivers a powerful performance you can't help but be drawn to him.

It's almost like Michael Clayton, only better.

Kendrick, as the young go-getter, keeps pace and compliments him perfectly, while Farminga, as the classy, equally detached high-flyer, portrays the right amount of apparent ambivalence towards life of togetherness and settling down.

Interspersing footage of interviews with real people who have lost their jobs with actors, the talented Reitman, who adapted Walter Kirn's 2001 book bearing the same name, sensitively portrays the tragedy that continues to befall millions of people around the world – we've all been touched by people who've lost their jobs. And by finding the humour in all of this, he makes us laugh, not insensitively, but perhaps at the irony of our very lives.
Keep up with the latest business news from the region with the Emirates Business 24|7 daily newsletter. To subscribe to the newsletter, please click here.
Follow Emirates 24|7 on Google News.