Courting disaster in a big way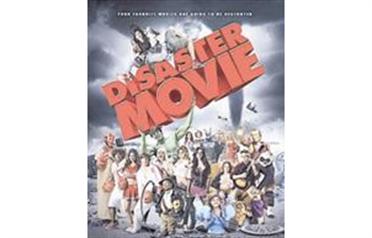 Disaster Movie, Jason Friedberg and Aaron Seltzer's latest spoof melds together elements of Cloverfield, Indiana Jones And The Kingdom Of The Crystal Skull, Night At The Museum, Hancock and Sex And The City.

Will (Matt Lanter) breaks up with his girlfriend Amy (Vanessa Minnillo) shortly before an asteroid shower decimates the city, sending terrified residents onto the streets to escape the airborne threat. Hannah Montana (Crista Flanagan) is crushed by one giant polystyrene rock as Will runs for cover with wise-cracking friend Calvin (Gary 'GThang' Johnson), sardonic teen Juno (Flanagan again) and an Enchanted Princess (Nicole Parker) in tow. They race against time to reunite with Will's stricken girlfriend Amy, who works in a museum across the town.

Disaster Movie opens with a humourless prologue set in 10,001 BC, then jumps to the present day where the fun never begins. Fleeting appearances by Hellboy, Iron Man, Batman and The Incredible Hulk smack of desperation, while the closing credits song is a dreary cover version of Sarah Silverman's foul-mouthed ode to Matt Damon.

The film's snappy title perfectly sums up both the thematic targets and its pitiful quality. Difficult as it is to conceive, Disaster Movie is even more disjointed, unimaginative and interminably dull than the writer/directors' previous efforts: Date Movie, Epic Movie and Meet The Spartans. Lacklustre dance numbers in a High School Musical stylee and limp running gags meet their match in a disoriented, sabre-toothed Amy Winehouse (Parker again).

Extras include G-Thang's Tour, Girls Fight, This Is How We Do It and Who's Spoofing Who? featurettes and I'm Dating Matt Damon singalong.
Follow Emirates 24|7 on Google News.