Courting luxury lovers in London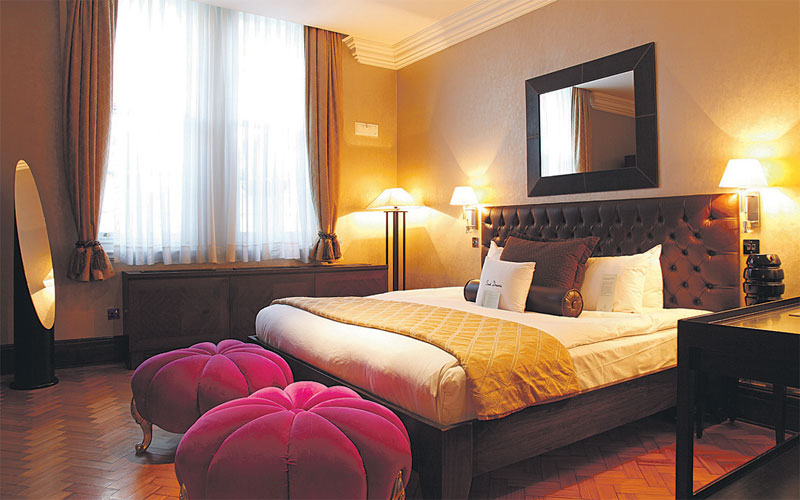 Is your love strong enough to withstand a night in jail? Good question, because if romance is on the menu, this London hotel offers just the thing – right in the heart of the British capital's Regent Street shopping district.
The test in question, then, is in the bowels of the Courthouse Doubletree by Hilton, a former magistrate's court that has been reinvented as a five-star hotel, but with many of its original features intact. Its swanky bar is set in the old holding block and features three original jail cells that have – naturally – been refitted to serve as private rooms, complete with padded toilet and bed, and adventurous types can book them out in advance.
But the 112-room hotel also features a Michelin-rated restaurant, the 45-room Silk, which attempts to recreate the historic silk route to Asia on diners' plates with a fusion of South Asian food, so expect dishes inspired by Asian and Thai food, but adapted to international palates. Expect such exotic fare as scallops seasoned with kaffir lime leaves. At least equally as interesting is the fact that the restaurant is set in the converted Number One Courtroom, once witness to the trials of such social menaces as Oscar Wilde, Mick Jagger and John Lennon.
Now, of course, you can engage in some disorderly conduct of your own after a day's hard shopping in what for central London are surprisingly large guestrooms. Clean and airily designed, they come equipped with such standard mod-cons as LCD TVs and wireless internet.
And if that's too pedestrian for your tastes, the hotel ups the ante with its Lalique Penthouse. I'm told it is immensely popular with the Middle East's big-spending, large-living travellers for its Bentley Spur airport transfers and Lalique welcome gifts, as well as for the private shopping experience at the crystal maker's flagship London store.
But all of that notwithstanding, the Courthouse's proximity to the shops and the theatres is the best thing about it – it is located opposite Liberty's department store and Bond Street, Regent Street and Carnaby Street are all just steps away, so you can head out for a day of retail therapy, nip back into the spa and then head out?all togged up to a memorable evening at one of Soho's many entertainments. Shopaholics looking for a spot to park their bags in London could do a lot worse than this little boutique gem – even in London's inclement weather.
Follow Emirates 24|7 on Google News.