Did you hear the Morgans isn't very good?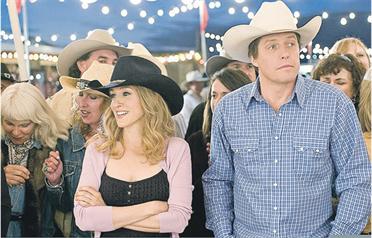 What a difference a decade makes. The last time Hugh Grant and Sarah Jessica Parker worked together, they played medics in the misfiring 1996 thriller, Extreme Measures.
He was the top draw, coasting along on the multi-award-winning successes of The Remains Of The Day, Four Weddings And A Funeral and Sense And Sensibility. She was struggling to carve out a niche with a varied CV including Footloose, Honeymoon In Vegas, Hocus Pocus and Ed Wood.
Fast-forward to the present day, Parker is now the global icon thanks to her role as Carrie Bradshaw on Sex And The City, while Grant has surrendered to typecasting as the bumbling Brit.
He trots out that very same performance in the romantic comedy Did You Hear About The Morgans, which reunites Grant with Marc Lawrence, writer-director of 2002 rom-com Two Weeks' Notice.
Sadly, the on-screen spark shared with Sandra Bullock in that picture is absent here as the leads portray a husband and wife who reignite the passion in their ailing marriage when they become embroiled in a life-or-death situation.
Real estate agent Meryl Morgan (Parker) and her husband Paul (Grant) are estranged after he cheated.
Unable to forgive the man she once loved, Meryl leads a separate life to Paul and is now ready to ask for a divorce, via her trusty personal assistant Jackie (Moss).
During a rare night out, the Morgans stumble upon hit-man Vincent (Kelly) shooting his latest target.
As the only witnesses to the crime, Meryl and Paul are rushed into protective custody and gifted new identities, then flown to a secret location: a dead-end town in Wyoming.
They pretend to be relatives of sheriff Clay Wheeler (Elliott) and his gun-toting wife Emma (Steenburgen), until the police back in New York City catch Vincent.
"Do you hunt" asks Emma. "Just for bargains," smiles Meryl.
As they spend time in each other's company, Meryl and Paul realise how much they still love each other – but his infidelity prays on her mind.
Did You Hear About The Morgans is a conventional fish-out-of-water comedy, contrasting the fast-paced, big-city lifestyle of Meryl and Paul with the laidback, community-oriented existence of their new neighbours.
Grant plies his usual charm to ensure his adulterous husband remains likeable, confessing that he did not enjoy his one moment of extra-marital sex: "I felt guilty the entire time and her perfume smelt kind of like a burrito."
Parker milks our sympathy as the wronged wife, before the script attempts a reversal of power that feels really contrived.
An action-oriented finale involving a bull is preposterous, with a thick smothering of schmaltz in an epilogue that neatly ties up the loose ends six months later.
- Did You Hear About The Morgans Stars Hugh Grant, Sarah Jessica Parker, Sam Elliott, Mary Steenburgen, Elisabeth Moss, Jesse Liebman, Michael Kelly.
Director: Marc Lawrence
Follow Emirates 24|7 on Google News.