Family first for Hollywood's most Bankable star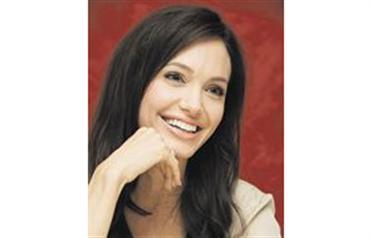 Hollywood actress Angelina Jolie has proven how handsomely it pays to combine gun-wielding action with serious roles. Not only has she become Tinseltown's highest paid actress – according to the industry magazine, The Hollywood Reporter – due to big box-office draws, such as action flick Wanted; she's also set to become a hot favourite in the upcoming awards' season, all thanks to her stunning performance in new film, Changeling.

Jolie has already bagged two Best Actress nominations – one Golden Globe and one Screen Actors Guild award – for her portrayal of Christine Collins in the American period thriller, directed and produced by Clint Eastwood.

Now the stunning actress is widely tipped to win an Oscar, which will be her second after her Best Supporting Actress gong for Girl, Interrupted in 1999.

If she does indeed win, critics say, Eastwood's expert direction will have helped somewhat; given that he steered Hillary Swank to a golden man for 2004's Million Dollar Baby.

"Anything that acknowledges a film that you are proud of and that you worked hard on means a great deal," Jolie says. "But at the same time if nothing is ever acknowledged you are just as proud and you know you worked just as hard."

But it is ironic that her role in Changeling could become one of her most successful in her career, considering that when Jolie first read the script for the film, she turned it down.

"When I read the script, I could not put it down and then I said 'no'. Immediately. I did not want to go near this project because it was too upsetting. But then I couldn't stop talking about her," she explains. "I found myself sitting with people and wanting them to know about this extraordinary woman that you wouldn't believe what happened to her and what these people did to her."

Based on true events, Changeling tells the story of single mother Christine, whose son Walter disappears without a trace in 1928 Los Angeles. Five months later, a child who claims to be her son is returned by police, who are keen to win credit for a job well done.

Dazzled by flashbulbs and overwhelmed by reporters, Christine agrees to take the boy home, even though she knows it is not her son. Her campaign to find the real Walter continues, but in Prohibition-era Los Angeles, women don't stand up to the system and she is sent to a mental institution.

Christine's long battle against the corrupt system eventually changed the course of the city's history.

"I found it very inspiring in the end," Jolie continues. "It became a story about democracy in action, a story about justice, about suffering a great loss and fighting through it and making a change for the future, for other people and questioning government.

"Christine had to walk a very fine line and then when she did speak out, they locked her in an institution, so she had this real struggle to try and behave with these very corrupt people."

Jolie's twins, Knox and Vivienne, who she gave birth to last July, are the latest additions to her and partner Brad Pitt's brood, but were still just a glint in their mother's eye while she was filming.

The actress says her other children – Maddox, 7, Pax, 4, Zahara, 2, who were all adopted, and two-year-old Shiloh, her first biological child were a comfort to her during the harrowing shoot.

"I had my kids with me as much as possible at lunch and after doing a day at work I would run home," she reveals. "I just wanted to be silly, it was so emotional that I found myself being really goofy. I was so happy that I knew where my kids were and they were okay."

Christine's story also made Jolie feel closer to her mother Marcheline, who died last year from ovarian cancer. She says her mother was strong like Christine.

"Her name was Marcheline, but everybody called her marshmallow, because she was just the softest most gentle woman in the world," says Jolie, suddenly tearful. "She was really sweet and she would never get angry. But when it came to her kids she was just really fierce.

"This is very much her in that she was that woman I related to who had that elegance and strength through knowing what was right."

Jolie admits she has struggled to cope with her mother's loss, but is thankful for what she has. "My mum was far too young, she was 58. But she lived long enough to meet my children, most of my children. So you can only focus on how grateful you are. And when you love somebody that much, you are happy that they are out of pain. The important thing is they don't suffer.

"I have been so blessed to have healthy children and a great partner. We are having such a wonderful time raising our children together and there is a lot of love in our home. I remind myself of that anytime I would think of what I have lost. So I feel very lucky."

One of Changeling's biggest pull factors for the Oscar-winning actress was the opportunity to work with Eastwood. "I had always wanted to work with him because I love his work. In person, he's a really good man, he's very solid, very strong and great with his crew. He's one of those very fair leaders," she says of the director.

"He's very decisive and he's famous for shooting one or two takes which does sound terrifying for an actor. But because of that you know he's not going to drain you emotionally. It does allow for you to push yourself. And also because he does just one take everything is very fresh. As actors we tend to overthink things, and because you don't have time for that, it keeps it very in the moment and very real."

One of the most fun moments of the role, she says, was wearing rollerskates, because her character Christine worked at a telephone exchange and had to move around fast. "Skating in heels was one of the funniest things I've ever done in my career and it's a great example of the nutty things people did in the 1920s."

Jolie was born in Los Angeles to actress mum Marcheline and actor father Jon Voight. Her parents split not long after she was born and she was brought up by her mother in New York.

The family moved back to LA when she was 11 where she attended acting classes and went through a teen rebellion phase.

The stunner then started modelling and appearing in music videos and low budget films, and in 1999 she won an Oscar for Best Supporting Actress for her role as a sociopath alongside Winona Ryder in Girl, Interrupted – but she confesses she doesn't know where her Oscar is. She gave the statuette to her mum, who hid it away.

"She didn't put things out that she thought were too special and I don't know where she put it," she admits.

Her portrayal as archaeologist Lara Croft in the 2001 film version of the bestselling video game Tomb Raider got Jolie global attention.

In 2005 she met Pitt on the set of Mr & Mrs Smith where the pair played a married couple of secret assassins. And last year, she won critical acclaim for her portrayal of Mariane Pearl in A Mighty Heart, whose reporter husband Daniel was killed in Pakistan.

For an actress at the top of her game, it seems unusual that Jolie plans to bow out of the business. But with six kids to watch over, her family clearly comes first.

"I'm not making some big retirement announcement, but I have a big family and I have a lot of responsibility at home. Maybe I'll make a film once a year and then maybe once every two years and then maybe eventually I'll stop," she adds. "I don't plan to keep acting very long, I'm ready to do a few things now then fade away and get ready to be a grandma one day."

Based on a true story

J Michael Straczynski wrote Changeling after he was told of the case by a friend at LA City Hall in the USA.

He then spent a year researching it through archived city records before writing the script, most of which was taken from the historical record.

According to records, Christine Collins' nine-year-old son, Walter went missing on March 10, 1928, while on his way to the local cinema.

His disappearance received nationwide attention, and the LAPD followed up on hundreds of leads without success.

Five months after Walter's disappearance, a boy claiming to be Walter was found in DeKalb, Illinois.

Later, he admitted of being Arthur Hutchens, 12, and coming up with the plan to impersonate Collins' son. His motive was to get to Hollywood so he could meet his favourite actor, Tom Mix.
Follow Emirates 24|7 on Google News.