Five minutes with Kate Winslet and Leonardo DiCaprio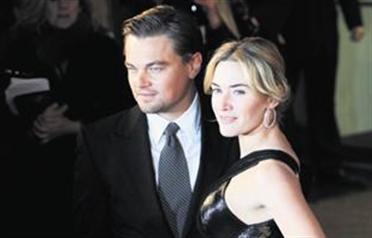 Kate Winslet and Leonardo DiCaprio reunite on screen for this week's new release, Revolutionary Road. Winslet has won a Golden Globe for her performance, and she and Leo talk about the film – and being working as a couple once again.

Having famously worked together before, were there any surprises this time around?

LD: Kate and I remained close friends for many years. Since Titanic, we've been both actively looking for the right project to do – we knew anything similar would be a complete set-up for disaster. How has Kate changed? She's always had that pursuit of excellence within the characters she plays – she's got an unbelievable work ethic that she's retained since I first knew her. She cares about the movie being great, the other actors involved, and everything. What's changed is since that movie, she's done quite a bit of work, as have I, and we... come into movies now with our own ideas.

KW: I think he's nicer, funnier and a better actor than he was. And quite honestly, playing Frank and April Wheeler, there was a surprise every day. I loved playing some of the difficult scenes with Leo, knowing that because of the trust we have having known each other for so long, that there were no boundaries; that was a real gift.

This is obviously a movie about a troubled marriage. Would you say it's because of a failure to communicate?

KW: I think it's a combination of different things, an inability to communicate, or forgetting to communicate with each other, and it's only when April turns and says, "We can't go on pretending that this is the life we wanted," that both forced to question that, and they realise maybe they aren't the people they were when they first met, they want different things from life. And April is so determined to find happiness she is prepared to risk anything in order to get that, which to me is a very heroic act.

LD: My character, on the other hand, is very un-heroic and cowardly (laughs). He doesn't have the courage to manifest any tangible change in his life. I think the film is about two people being forced apart by different intentions for what they wanted their lives to be, but are desperately trying to salvage their marriage and stay together.

Kate, you seem to be competing against yourself in the awards races, for best actress or supporting actress for The Reader. How does that feel?

KW: I feel very proud of both of these films, and to be a part of them... I can only hope that I can live up the expectation. I hope the work speaks for itself.

Was there one scene that stood out that was the most exciting or the most rewarding for you two?

LD: What was interesting about the way Sam set this whole film in motion was how he attacked it like a theatre production. He really realised it was an ensemble piece that depended so much on the actors.

KW: For me, one of the most memorable scenes was the breakfast scene at the end of the film. Everything about it took me by surprise, from the way that it was lit in that incredibly stark, beautiful, naked way; from the way that Sam really steered us through the very difficult emotions. Rhythmically, the scene is very delicate; and I remember feeling very strongly that Leo and I were very much in Sam's hands when we were shooting that scene.
Follow Emirates 24|7 on Google News.