Five questions to... Zein Kamal & Noor Sweid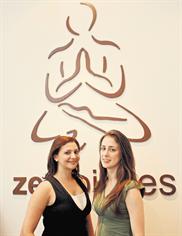 Yoga has become an increasingly popular exercise as people not only look for a way to shed weight, but want to relax at the same time. A study by Yoga Journal reported that Americans spent $5.7 billion (Dh20.91bn) on it in 2008 – 87 per cent more than they did in 2004.

As such, Zen Yoga, owned by Zein Kamal and Noor Sweid, has grown from one to four studios across Dubai in just three years as demand quickly outstripped supply.

Here, the founders, who financed the company themselves, tell Emirates Business how the business grew from a personal need and why it is such a good discipline to take up.


How did Zen Yoga come about?

Sweid: When I moved back to Dubai [after studying in the United States] it was difficult to find qualified instructors. I practiced at home for a year then thought about opening a studio so I could do it there. Zein and another friend said they would love to join so we brought over instructors for the US and opened in Dubai Media City. Very quickly, we realised there was so much demand that it could not keep up, therefore we opened a second, third and fourth studio.

Are you turning a profit?

Kamal: Because of the locations of the studios, our expenses are quite high so we are yet to see a lot of profit but we did not start the business to make money; we did it to service the community and if you look at any start-up it takes three yeas to break even so we are treading the normal curve.

Has yoga has been more in demand since the credit crunch hit the UAE?

Kamal: There has been more people taking up yoga since the global recession. They are stressed and know it is good for them and they would rather spend money on something they think is good for them.

Since you started, a number of other companies have launched yoga classes – are you worried about this competition?

Kamal: There was room for yoga to grow in this region and because it is proven to help a lot of ailments, people are bound to be interested. We were the first to have a studio such as this three years ago but it is a natural progression for others to open. There is some competition in the market but we do not see big gyms as competition because the classes are completely different. They target the general public whereas we target people looking to work out in a cosy, friendly atmosphere. The growth has slowed down but there is still potential and more room for it to grow further.

Do you plan to go international?

Kamal: We started Zen Yoga to provide a service to the community. The yoga community is huge, but we did not realise how big until we started the business but at the moment we do not have any plans to open another centre. We want to imporove what we have and then we will go from there.
Keep up with the latest business news from the region with the Emirates Business 24|7 daily newsletter. To subscribe to the newsletter, please click here.
Follow Emirates 24|7 on Google News.