Free jazz for all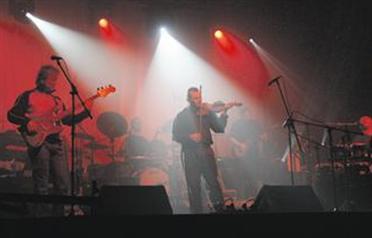 In less than two weeks artists James Blunt, John Legend and Incognito will perform live in the city on three separate evenings for this year's Dubai International Jazz Festival, now in its seventh year.

Yet, before the headliners take to the stage, the festival will be providing seven nights of quality music for jazz fans – and best of all, they are free.

Network Jazz Garden is a newly created concept for the festival, sponsored by Network International, and runs from February 18 until 24 (after which Blunt will kick off the three-day headliner fest on February 25).

Three different acts will perform to an approximate audience of 1,500, with entry by invitation only; don't fret, you can grab one by logging on to Dubaijazzfest.com.

Anthony Younes, CEO of Chillout Productions, the organisers of the festival, tells Emirates Business: "We are always keen to introduce new and creative features every year that could interest and attract our fans.

"The Network Jazz Garden performances complement the festival and are now an essential part of it, yet very unique in terms of music features, set-up and feel. It will add a great charm and sophistication to the overall atmosphere."

He further adds: "The festival is welcoming a great compilation of Armenian jazz professionals this year. These outstanding artists have already achieved international acclaim and will perform in the the UAE for the first time."

So, is the current economic downturn the reason behind hosting the jazz garden nights for free?

"The idea behind this concept is not financially driven," he continues. "It is to see how far the festival can go in terms of expansion and creativity, as well as initiating new themes and live entertaining experiences.

"Last year, we extended the festival to 10 nights that took place at three venues, offering free performances to all music fans.

"We received remarkably positive feedback and, therefore, this has become a major incentive for us at Chillout Productions to offer the best of opportunities to all music lovers in the UAE."

Dubai International Jazz Festival 2009 Tickets are on sale for the last three days (featuring James Blunt, John Legend and Incognito), starting from Dh295. Call: 04 367 6699

Wednesday, February 18

8pm: Marwan & Friends

Lebanese band Marwan & The Mojos will be kicking off every night, inviting a surprise local musician.

9.30pm: Night Dreamer with Levon, Malkhasian, Aramo and Vazgen Asatrian

This ensemble of highly-acclaimed musicians play the best of Armenian compositions.

11pm: Elizabeth Ayoub

The Lebanese-Venezuelan beauty, pictured, headlines, blending traditional with contemporary.

Thursday, February 19

8pm: Marwan & Friends

9.30pm: Vahagn Hayrapetyan Quartet

This renowned Armenian jazz act, which has shared the stage with some of the biggest world jazz stars, makes its UAE debut tonight.

11pm: Amina Figarova

Amina Figarova, pictured, is arguably one of the most productive and talented jazz piano players from Europe. Now living in Rotterdam, The Netherlands, born in Baku, Azerbaijan, Figarova started playing piano and composing at a very early age.

Friday, February 20

8pm: Marwan & Friends

9.30pm: Time Report Quintet

Best known for their stint at the very first Yerevan International Jazz Festival, this Armenian jazz ensemble plays the best of ethnic jazz.

11pm: Miliana

Miliana, pictured, makes her UAE debut tonight. The female artist's music is described as soft, yet sophisticated.

Saturday, February 21

8pm: Marwan & Friends

9.30pm: Malkhas Jazz Band

Malkhas is one of Armenia's most popular jazz bands, and the regular act at local jazz hangout, the Malkhas Jazz Club in Yerevan.

11pm: Djabe

Hungary's number one jazz/world/fusion band, pictured, which mixes jazz elements with traditional Hungarian music, play for the very first time at the jazz festival tonight.

Sunday, February 22

8pm: Marwan & Friends

9.30pm: Katuner Jazz Band

This Armenian jazz folk band will perform the best of original and recognisable compositions.

11pm: Gina Saputo

One of Los Angeles' brightest stars, Gina Saputo, pictured, has already built an impeccable reputation for her versatility, talent, professionalism and undying passion for music. Expect her to be one of the most popular acts of Network Jazz Garden.

Monday, February 23

8pm: Marwan & Friends

9.30pm: Karen Mamikonyan

This gifted musician has won many fans in the Armenian rock and jazz music community, thanks to her unique sound.

11pm: Judy Wexler

Wexler, pictured, who has been dubbed as "one of the most focussed and unpretentious jazz-oriented singers around" headlines.

Tuesday, February 24

8pm: Marwan & Friends

9.30pm: The All-Star Armenian Jam Session

This rich assembly of Armenian musicians present the finest masterpieces of Armenian jazz.

11pm: Lisa Hugo

The trained pianist, actress and dancer, pictured, takes to the stage for the grand finale of the Network Jazz Garden.
Follow Emirates 24|7 on Google News.