From old to young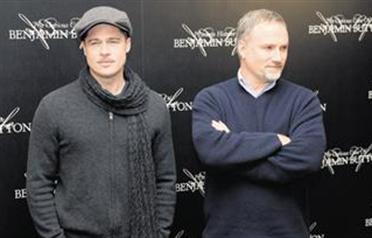 Pulling in more than $122m (Dh448m) in the US box office alone despite the credit crunch is enough to grab any film fan's attention about The Curious Case of Benjamin Button.

Add to that a stellar cast, including Brad Pitt and Cate Blanchett, as well as an award-winning director in the form of David Fincher – as well as the fact the film has been nominated for 13 Oscars – and there's no doubt you have a great movie on your hands.

Emirates Business chats to the trio about the film, which has just hit the UAE's cinemas.

What was it about the story that made you have to make this movie?

David Fincher: I just liked the story. I thought it was a beautiful character, and I thought it was kind of an amazing journey. And as I closed it, I thought this would be a movie that I'd like to own on Blu-ray.

Brad Pitt: Finch and I had been talking about a few projects from time to time. I really didn't think this one was going to happen, and yet it kept coming up. You know, it was going to require prosthetics, there was a love story involved: All reasons I thought I should probably not partake in this one. And yet Finch had this lovely description talking about the dents, the impressions that people leave on you for your evolution. I realised that this was worth going for just because of the company we were keeping. I feel fortuitous it went the way it did.

Cate Blanchett: When David Fincher and Brad Pitt say that they want to talk to you about doing something, you take the meeting. I am mesmerised and proud to be part of a film where every single frame is necessary and beautiful. It's a project in which technology has been absolutely harnessed to the storytelling and David has been able to make something that's potentially impossible and fantastical become utterly realistic.

Tell us more about the technology used.

DF: The problem that we had to solve was that we had the physiognomy of a five-year-old but we needed the external and wrinkling of an 85-year-old. We needed it to look like him at 85, and we needed him to be able to perform the character. So what we did was we shot scenes and we lopped the heads off the actor who played the little Benjamin. You have to shoot so fast after you do it because you only have about 19 to 20 seconds before they die. But we took their heads off and we put a CG head on him. And the technology used to do that is readily available. They use them for video games.

What about all the make-up?

BP: I thought it would be more cumbersome than it was. It was surprisingly manageable once you got it all on, which was a bit of an endeavour, but doable. I think I was more vulnerable and in a way you could be because you had the markings on you; you had the scars of time.

What was the biggest challenge?

BP: I think it was stamina. Because you're coming in, you're getting up at three in the morning, shoving some coffee down the gullet and you're getting in the chair and the process begins and the process becomes quite arduous. Then there's an hour of clean-up at the end of the day. And then it starts all over again, and to get any kind of sleep, you've got to do it there in the chair.

Do you still call New Orleans your home?

BP: Yeah. New Orleans is very dear to me and there's a lot of effort on the ground trying to resurrect the place, and it's happening.

How difficult was it to shoot in New Orleans?

DF: Ironically, the short story takes place in Baltimore. When we couldn't make it happen in Baltimore because there was too much construction and it would have been too expensive to redo the waterfront the way we needed it to be, somebody suggested that we go to New Orleans and I, of course, did the director thing. I said: "Well, I can't – it's just absurd!" And then I started seeing photographs and it was this amazing, beautiful, haunted, magical place. Then after everybody agreed we were going to New Orleans, Hurricane Katrina happened. We had the opportunity to pull out and go somewhere else, but we sort of all thought, "No, we've got to go there now."

BP: That was important. It was a nice thing to be able to bring the film in and I think it meant a lot – I know it meant a lot to the people there. We went there because of economics and it turned out to be a serendipitous occurrence because it so shaped the film. New Orleans permeates the film and somehow grounds it in, because it's mystical and there's mystery and all things New Orleans.

How did the experience of being so young and so old affect you?

BP: I'm always amazed at people's stories and the loss that people carry with them. And it made me think a lot about that. It made me think a lot about time and the fragility of it all and how I spend that time. Am I at mid-life? Am I halfway there? Am I almost at the end? I don't know. So I don't want to spend that time being angry at the people I love in any way. I want to spend that time with value.

What about your kids seeing the transformation; seeing you change?

BP: Surprisingly my kids came on set when I had the old-age gear on, and they were completely unaffected by it. They knew it was me.

What kind of things do you fear for your children in the future?

CB: I think there's no bigger issue facing us than climate change. It's pretty scary. But there's an opportunity to reassess the way we live and think about that every day in relation to the future of our children.

BP: I feel it's a very hopeful time. I felt an absolute shift with our last election. We've reconfirmed the ideas of America. A great issue is the climate, and there are great battles with poverty. It's in our self-interest. It's smart business and it's an investment in the future. I always find that there's a self-interest argument to be made, as well as a human interest argument for those that that's not enough.
Follow Emirates 24|7 on Google News.